Blockchain in Insurance Market - Introduction
In the insurance market, new emerging technologies change the process of interacting with customers and sets new trends and ways to deliver products and services. Blockchain technology eliminates the need for intermediaries by using the distributed ledger principle for processing.
Blockchain technology helps insurance companies by encrypting and verifying all the registered transactions in the business process and also maintains the records of all changes in original data.
Blockchain technology is applicable in the insurance sector for encrypted medical records that are shared with insurers and hospitals, eliminates duplicate records, and manages claim denials, lengthy claim processing, and excessive checkups. Blockchain technology increases the efficiency and productivity of employees by providing access to real-time encrypted and secured databases.
Insurance companies are adopting blockchain solutions to reduce the time for processing and overall transactional cost and to increase the market penetration with quality of services
A survey titled Accenture Technology Vision 2019 revealed that blockchain technology is adopted by more than 80% of insurance companies or planning to adopt and invest in blockchain technology to increase the performance of the business operations.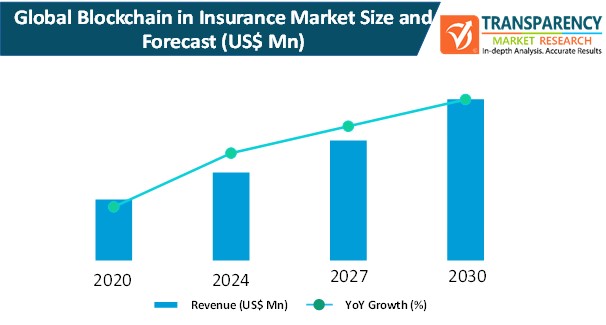 Key Drivers of the Blockchain in Insurance Market
Increasing demand for online secure platforms for real-time centralized database access is expected to drive the growth of the blockchain in insurance market. Increasing spending by insurance companies on advanced encryption technologies to secure commercial and customer data is expected to boost the growth of the blockchain in insurance market.
Adoption of technologically advanced software platforms is expected to create better business opportunities for providers of blockchain solutions in the insurance sector.
High initial setup cost and lack of standardization expected to hinder the blockchain in insurance market
Adoption of new blockchain technologies in insurance is expensive at the initial stage and blockchain technology is under development for its application in the insurance industry. This may restrain the growth of the blockchain in insurance market.
Lack of standardization in blockchain technology due to the initial phase of technology development is also expected to hamper the growth of the blockchain in insurance market.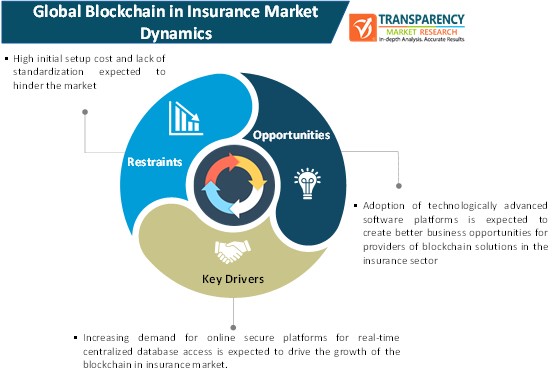 Impact of COVID-19 on the Global Blockchain in Insurance Market
Solution providing companies are expanding their geographical presence and services to capture more market share in Asia Pacific due to the increasing impact of COVID-19 on business growth. Companies are adopting advanced real-time secured platforms to improve the insurance policy related process, which increases the demand for the solution during lockdown conditions.
Companies are adopting advanced technology services for fraud detection and risk prevention for all insurance transactions. Increasing demand for digitalization in the insurance industry is also increasing investment by solution providers to offer advanced solutions to consumers during the COVID-19 period.
North America to Hold Major Share of the Global Blockchain in Insurance Market
North America holds a prominent share of the blockchain in insurance market due to increasing spending of insurance companies to adopt advanced solution data encryption and security and owing to the presence of major solution providers in the region.
The blockchain in insurance market in Asia Pacific is expected to expand the fastest during the forecast period due to increasing investment by major players to provide the services across the region and also due to the increasing demand for online insurance solutions in emerging economies in the Asia Pacific region.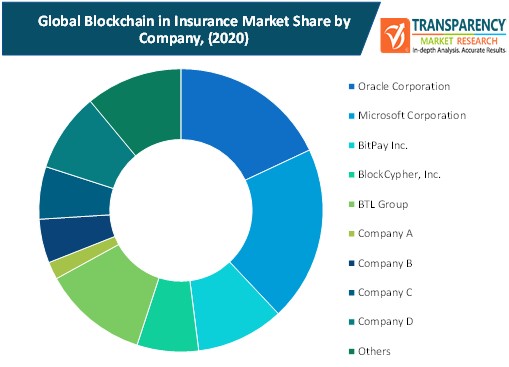 Key Players Operating in the Global Blockchain in Insurance Market
Oracle Corporation is an information technology company, providing applications, platforms, and IT infrastructure products and services. The company operates through three business segments: Cloud and Licensing, Hardware, and Services. The company offers advanced insurance solutions with advanced technologies such as AI and blockchain.
Microsoft Corporation engages in the development, manufacture, licensing, marketing, and sale of software, personal computers & services, and consumer electronics. Its products range from video games to mobile devices. The company operates globally and has offices in more than 190 countries.
Other key players operating in the global blockchain in insurance market include BitPay Inc., BlockCypher, Inc., BTL Group, Cambridge Blockchain, Inc., ChainThat Limited, and ConsenSys Software Inc.
Global Blockchain in Insurance Market: Research Scope
Global Blockchain in Insurance Market, by Applications
Death and claims management
Payments
GRC management
Smart contracts
Identity management and fraud detection
Others
Global Blockchain in Insurance Market, by Enterprise Size
Small & Medium Enterprises
Large Enterprises
Global Blockchain in Insurance Market Segmentation, by Region
North America
Europe

Germany
U.K.
France
Russia
Italy
Spain
Nordic
Rest of Europe

Asia Pacific

China
India
Japan
Australia
Singapore
Malaysia
South Korea
Rest of Asia Pacific

Middle East & Africa (MEA)

UAE
Saudi Arabia
South Africa
Rest of Middle East & Africa

South America

Brazil
Rest of South America
Alternative Keywords
Blockchain Applications Across Insurance
Blockchain Accelerator for Insurance
Interested in this report?
Get a FREE Brochure now!