BIPV Glass Market
BIPV Glass Market (Material Type - Crystalline Silicon, Amorphous Silicon, OPV (Organic Photo Voltaic Cell), DSSC (Dye Sensitized Solar Cells), and Others (CdTe, CIGS); Glazing Type - Single Module and Double Module; End Use Sector - Residential and Commercial) Global Industry Analysis, Size, Share, Growth, Trends and Forecast 2017 - 2022
Category :

Chemicals & Materials

Format :
BIPV or building integrated photovoltaic glasses are embedded with photovoltaic cells that allow generation of solar energy. These glasses are becoming increasingly popular in the construction section for building roofs, facades, skylights, curtain walls of buildings, spandrels. BIPV glass is ideal for constructing walls or roofs that require a certain degree of opacity. The most exciting proposition of the product is that it can help generate electricity using clean technology. Integration of advanced thin-film technology such as OPV, DSC and PV are further improving the properties of BIPV glass.
Global BIPV Market: Snapshot
Growing efforts to reduce dependence on fossil fuel energy is expected to reflect favorably on the global BIPV glass market in the near future. Moreover, inclination towards self-sustainable buildings is likely to create broader market opportunities over the next couple of years. BIPV glass offers thermal and sound insulation while allowing natural light to pass in. At the same time, it provisions generation of clean and free energy as well as blocking of harmful radiation. The product not only meets the conventional requirements of protection from outer atmospheres but facilitates thermal management, glare protection and power generation. Factors as such are anticipated to play a major role in driving the global sales of BIPV glasses in the forthcoming years. As per the latest report published by Transparency Market Research (TMR), the global BIPV glass market is set to register a CAGR of 13.1% during the forecast period (2017-2022). Growing concerns over carbon footprint and urgency to generate power at lower costs has been instrumental in boosting the adoption of BIPV glass in both residential and commercial buildings.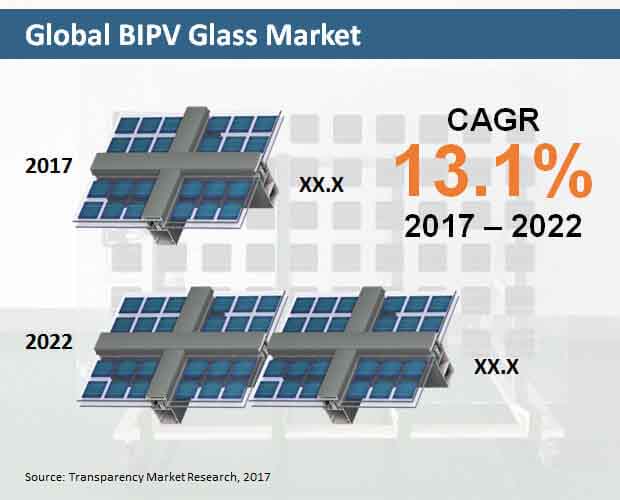 Europe will remain a Key Market for BIPV Glass over 2022
Strong demand continue to support the growth of the market in Europe. In terms of revenue, the region is expected to lead the global BIPV Glass market in 2017, and the trend is projected to grow throughout the forecast period. The BIPV market in Europe is expected to surge at a CAGR of 14.8% during the forecast period. This is primarily due to introduction of new environmental policies that support the adoption of sustainable energy generation and construction solutions. Meanwhile, Asia Pacific excluding Japan (APEJ) and North America are also expected to present lucrative opportunities for market players. Led by the U.S., the market in North America is expected register a significant growth on account of rising number of zero-net energy buildings across the region. In APEJ, factors such as robust industrialization and increasing awareness about advantages of renewable energy is likely have a positive impact on the market.
Crystalline Silicon a Top Selling Product
Crystalline is expected to remain a highly preferred BIPV glass product in 2017 and beyond. The global sales of crystalline silicon currently commands for more than three-forth revenue share of the global market. Nearly, US$ 2,499.3 Mn worth crystalline silicon is expected to be sold worldwide towards the end of 2022.
Commercial a leading End – Users Segment
Use of BIPV glasses in commercial buildings will remain high throughout the forecast period. This is mainly attributed to growing requirements of curbing energy costs in commercial infrastructures. Close to US$ 1,289.8 Mn worth BIPV Glasses are expected to be installed in commercial infrastructures.
Leading players operating in the global BIPV glass market includes Compagnie de Saint-Gobain SA, Asahi Glass Co., Ltd., Nippon Sheet Glass Co., E.I Dupont De Numours and Company, Solaria Corporation, RWE AG, Canadian Solar Inc., First Solar and Hanwha Chemical Corp. A majority of these players are actively focusing on improving their product efficiency and development of new BIPV technologies.
Transparency Market Research (TMR) has developed an exclusive forecast study on the global market for BIPV glass. The study examines key aspects encompassing the growth of the global BIPV glass market, and delivers insight forecasts for the assessment period, 2017-2022. The report provides information of key trends influencing the expansion of global BIPV glass market in the next five years. Competition landscape in the global BIPV glass market has been profiled extensively in the report, and baseline values of market size estimations have been derived from aggregating the revenues of market players.
Report Synopsis
The report commences with an executive summary on the global BIPV glass market, which highlights the key research findings, particularly across material-type segments and regions. A snapshot of market size estimations and forecasted evaluations has been provided in this section. The report includes an overview of the global BIPV glass market, which includes a standard definition of BIPV glass and a balanced introduction to the market based on analytical assessment.
The report delivers market size estimations and forecast on the basis of key metrics such as compounded annual growth rates, year-on-year growth rates, absolute dollar opportunities, and basis point share index. The report further analyses the dynamic growth of the global BIPV glass market. In this section, factors driving or restraining the global adoption of BIPV glass have been analysed. Key trends and lucrative opportunities are also compiled in this section to enable market players considered the unexplored entities in their business expansion for the immediate future. The report has also profiled key companies in the global BIPV glass market, which include, Compagnie de Saint-Gobain SA, Asahi Glass Co., Ltd., Nippon Sheet Glass Co., E.I Dupont De Numours and Company, Solaria Corporation, RWE AG, Canadian Solar Inc., Trony Solar Holdings Co. Ltd., First Solar, and Hanwha Chemical Corp.
Research Methodology
Analysts at TMR are developing comprehensive research studies to develop credible insights on the future of different markets. BIPV glass is an emerging commodity in the chemicals & materials sector, and has found applications in the global energy marketplace. For development of this study, the accuracy of these forecasted market evaluations has been assured by infusion of qualitative information with quantitative data. Inferences provided in this report can enable manufacturers of BIPV glass to devise informed strategies. A range of primary and secondary research approaches have been employed in the development of these inferences. Key opinions of industry leaders have been assessed for validating the viewpoints of our analysts. Availing this report can facilitate companies to take informed decisions towards future market direction.
Market Taxonomy
Key sections in the TMR report deliver segmental analysis on the global BIPV glass market. Based on the type of materials used for production of BIPV glass, the glazing used for harvesting solar energy, and their end-use, the global BIPV glass market has elaborately analysed in this report. On the basis of regions, the global BIPV glass market has been segmented into North America, Latin America, Japan, Asia-Pacific excluding Japan (APEJ), Middle East & Africa (MEA), and Europe. Cross-segmental analysis and country-specific forecasts have also been provided in these sections. Following table showcases the taxonomy employed for analysing the future of global BIPV glass market.
Region

North America
Latin America
Europe
Japan
APEJ
MEA

Material Type

Crystalline Silicon
Amorphous Silicon
OPV (Organic Photo Voltaic Cell)
DSSC (Dye Sensitized Solar Cells)
Others (CdTe, CIGS)

Glazing Type

Single Module
Double Module

End Use Sector
Custom Market Research Services
TMR offers custom market research services that help clients to get information on their business scenario required where syndicated solutions are not enough.
REQUEST CUSTOMIZATION