Bank Kiosk: Introduction
Bank kiosks are small booths placed by banks at various locations to provide different banking services. Bank kiosks enable customers to make various banking transactions without visiting a bank.
Bank kiosks offer 24X7 self-service to customers, thereby providing additional convenience to customers and increasing customer satisfaction. Bank kiosks significantly save the time spent by customers waiting in line at banks during transaction.
Bank kiosk offers services such as transferring cash and depositing funds, noncash/inquiry services including mini statement and balance inquiry, bill payment facility, check deposit facility, Internet banking, and others.
The global bank kiosk market is projected to expand at a rapid pace during the forecast period due to advancements in technologies and rising digitalization in the banking sector across the globe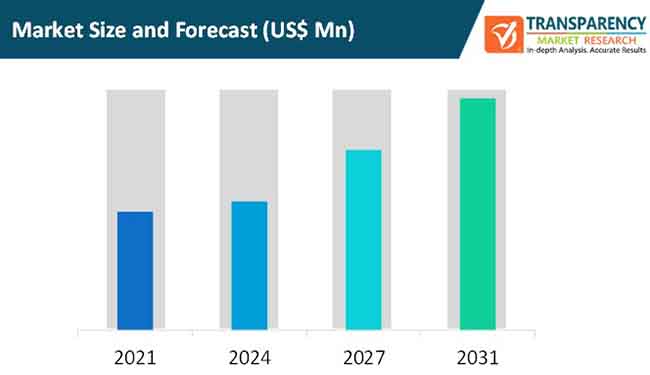 Global Bank Kiosk Market: Dynamics
Global Bank Kiosk Market: Key Drivers
Increase in demand for self-service in banking and financial services applications coupled with a surge in government initiatives for the deployment of the banking sector is a key factor that is projected to fuel the bank kiosk market during the forecast period
Rising focus on enhancing customer services, reduction in overall operational costs, and reduction in overall transaction time are also major factors boosting the bank kiosk market.
Rising population and public awareness related to banking services is further driving the demand for bank kiosks, including ATMs, which in turn is further augmenting the bank kiosk market
Moreover, increase in adoption of self-service technology in the BFSI sector, especially in emerging countries such as China, India, and South Korea, is expected to positively influence the demand for bank kiosk
However, increasing incidents of cybercrime, susceptibility of bank kiosks to theft, and growing use of mobile/Internet banking are likely to hamper the bank kiosk market
Introduction of contactless payments in the banking sector along with focus on new innovations and expansions, growing digitization, and rising number of smart cities projects across the world are expected to offer significant opportunities for the key players of the bank kiosk market in the near future.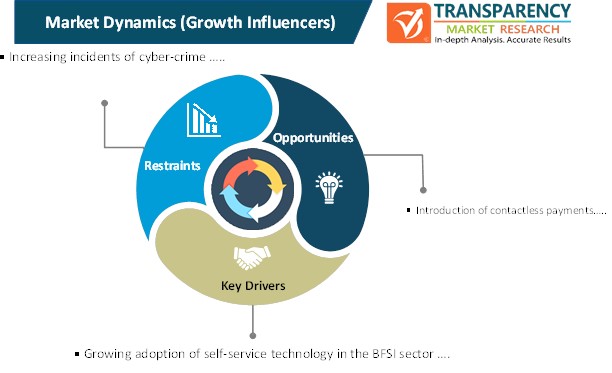 Impact of COVID-19 on Global Bank Kiosk Market
Increasing cases of COVID-19 across the globe is resulting in an economic slowdown and millions of employees are working from home for the first time during this pandemic. COVID-19 has directly affected the daily operations of the banking sector. Bank kiosks minimize human-to-human interaction in day-to-day activities, which helps prevent the spread of the virus. Hence, several banks across the globe are implementing self-service technologies to battle the COVID-19 pandemic. This is projected to fuel the global bank kiosk market.
Asia Pacific to Hold Major Share of Global Bank Kiosk Market
In terms of region, the global bank kiosk market can be divided into North America, Europe, Asia Pacific, Middle East & Africa, and South America
Asia Pacific dominated the global bank kiosk market due to the rapid expansion of the BFSI sector in countries such as China, India, and Japan, in the region.
The bank kiosk market in Asia Pacific is projected to expand at a rapid pace during the forecast period. This can be attributed to the rising deployment of self-service kiosks, government initiatives to enhance the fintech industry, and growing preference for interactive kiosks in the region.
North America is expected to hold the second-highest market share, in terms of revenue, mainly because of the presence of developed economies, such as the U.S. and Canada. The U.S. is a key market in the region due to the early adoption and implementation of innovative banking solutions.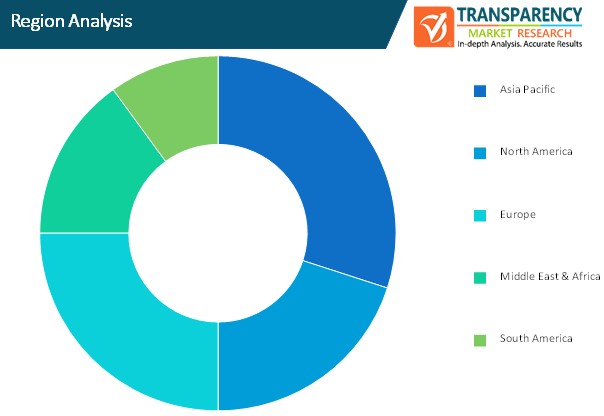 Global Bank Kiosk Market: Competition Landscape
Several local, regional, and global players are active in the bank kiosk market with a strong presence. Rapid technological advancements and growing digitalization in the banking sector have created significant opportunities in the global bank kiosk market. Vendors of bank kiosk market are focusing on various growth strategies such as partnership, collaborations, and merger and acquisition with technology partners to develop innovative and advanced bank kiosk to improve their offerings, customer base, and market reach. For instance, in February 2020, GLORY LTD. acquired 53% of shares of Germany-based fintech company Cash Payment Solutions GmbH, which provides online cash settlement platforms and trading under the brands Barzahlen and viacash.
Key Players Operating in the Global Bank Kiosk Market Include:
NCR Corporation
Diebold Nixdorf
GRG Banking
Glory Limited
Hitachi-Omron Terminal Solutions Corp.
Cisco Systems Inc.
KAL ATM Software
HYOSUNG TNS INC.
Auriga Spa
Olicom Group
Phoenix Microsystems
Printec Group
VeriPark
Wavetec
Shenzhen Yihua Smart Equipment Technology Co., Ltd.
PARTTEAM & OEMKIOSKS
Emerico Limited
Aurionpro Solutions Limited
Genmega
KIOSK Information Systems
Global Bank Kiosk Market: Research Scope
Global Bank Kiosk Market, by Offering
Hardware
Software
Services
Global Bank Kiosk Market, by Type
Single-function Kiosk
Multi-function Kiosk
Virtual/Video Teller Machine (VTM)
Global Bank Kiosk Market, by Distribution
Rural
Semi-urban
Urban
Metropolitan
Global Bank Kiosk Market, by Region
North America

U.S.
Canada
Rest of North America

Europe

Germany
France
U.K.
Italy
Rest of Europe

Asia Pacific

China
Japan
India
South Korea
Rest of Asia Pacific

Middle East & Africa

GCC
South Africa
Rest of Middle East & Africa

South America

Brazil
Rest of South America
Interested in this report?
Get a FREE Brochure now!