Balustrade Market
Balustrade Market (Railing Type: Interior Railing and Exterior Railing; Material: Stainless Steel, Glass, Wood, and Others; and Application: Residential and Non-Residential) - Global Industry Analysis, Size, Share, Growth, Trends, and Forecast, 2019 - 2027
Chemicals & Materials
TMRGL75427
2020-01-22
302

Pages
Modern Balustrade Designs to Replace Conventionally Welded Alternatives
Architectural designs and trends have evolved at a rapid pace. While conventional designs and structures continue to remain popular, modern designs and structures are being deployed across construction and infrastructure development projects worldwide. Balustrades have emerged as one of the most crucial features of a staircase, as they provide several benefits. Moreover, balustrades have garnered significant popularity as a safety component in staircases, and are increasingly being used across an array of infrastructure development projects, sports stadiums, public pathways, and commercial and residential buildings worldwide. In the current scenario, stakeholders in the balustrade market landscape are primarily focused on enhancing the aesthetic and functional aspects of balustrades.
Current trends in the balustrade market indicate that conventionally welded balustrades are likely to be replaced by cutting-edge customized handrail balustrade designs. Further, stakeholders in the current market landscape are focused on improving quality, offering innovative designs, enhancing safety, and offering balustrades that are easy-to-assemble. Further, companies are also investing resources to minimize engineering and installation costs and eliminating on-site fabrication issues. These factors, along with significant growth of the construction industry are expected to drive the balustrade market. The balustrade market is expected to reach a value of US$ 6 Bn by the end of 2027.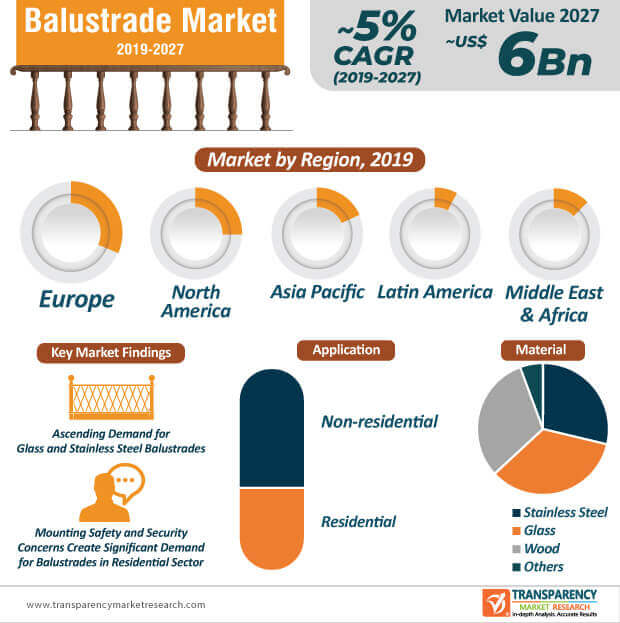 To gauge the scope of customization in our reports Ask for a Sample
Glass and Stainless Steel Balustrades Gaining Popularity
At present, a host of materials are used to manufacture balustrades, including glass, wood, stainless steel, etc. In recent times, glass balustrades have gained a significant amount of popularity, particularly in the residential sector. Apart from enabling natural light to penetrate the property, glass balustrades provide multiple practical advantages. Glass balustrades are increasingly being used, as glass is moisture-friendly, easier to clean, and most importantly have a longer product cycle in comparison to other materials such as wood. A recent trend that can be observed in the balustrade market is the surge in the usage of toughened glass wherein stakeholders are offering high quality toughened glass staircase designs and systems.
Get an idea about the offerings of our report from Report Brochure
While glass is expected to remain the most favored material of choice among stakeholders operating in the balustrade market, the adoption of stainless steel balustrades is set to gain noteworthy momentum during the forecast period (2019-2027). Stainless steel balustrades are growing in popularity, owing to exceptional functional properties of stainless steel, including durability, resistance to corrosion, enhanced aesthetics, and longevity, among others. In terms of material, the glass segment is estimated to account for ~34% share of the balustrade market and reach a value of ~US$ 1.5 Bn, whereas stainless steel segment is projected to account for a market share of ~29% and reach a market value of ~US$ 1.2 Bn in 2020.
Safety Concerns Lead to Formulation of Stringent Regulations
Over the past couple of decades, within the construction sector, stringent safety regulations have been formulated. Moreover, apart from focusing on the aesthetics and appearance of balustrades, stakeholders in the balustrade market are required to adhere to balustrade standards and regulations. In recent times, government regulatory bodies across the world have formulated specific regulations that address some important points pertaining to the installation of balustrades. Some of the critical points that are listed in these regulations include height, material of balustrade, and sturdiness of balustrades.
For instance, the Building Code of Australia (BCA) has laid down building codes and standards that are applicable to multiple stages of construction – from laying the foundation to intricate facets of construction, including balustrades. These regulations and standards are applicable to all types of balustrades and are largely formulated to enhance safety and prevent accidents across all types of properties in Australia.
Despite exhibiting a higher CAGR growth, the residential sector is expected to follow the trails of the non-residential sector, in terms of market share and value. Applications of balustrade in non-residential buildings is expected to be higher than residential buildings. The residential application segment of the balustrade market is projected to reach a value of ~US$ 1.7 Bn in 2020, whereas the non-residential segment is estimated to reach a market value of ~US$ 2.5 Bn in the same year.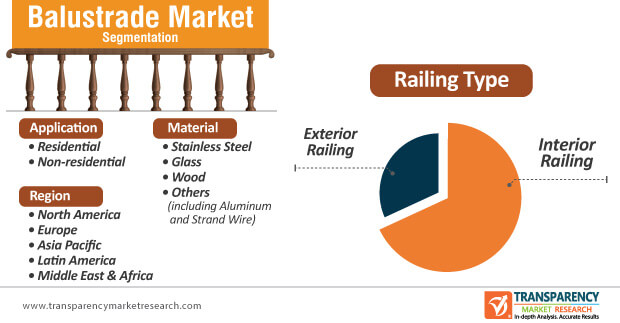 Looking for Regional Analysis or Competitive Landscape in Balustrade Market, ask for a customized report
Analysts' Viewpoint
The balustrade market is expected to grow at a moderate CAGR of ~5% during the forecast period. The market growth can be largely attributed to a range of factors such as growing focus on safety, articulation of new regulations, and uptake of glass and stainless steel balustrades. As per current trends, conventionally welded solutions are gradually being replaced by tailor-made balustrade designs across a range of residential and commercial projects. Stakeholders in the balustrade market should focus on reducing engineering costs, and offer innovative and sturdy balustrades that adhere to safety regulations and standards.
Balustrade Market: Overview
A balustrade is usually the railing on a balcony, porch, or terrace. It can be indoor or outdoor. A balustrade consists of several balusters that are spaced evenly and connected to form a decorative railing supported by baluster posts. Balusters are vertical, vase-like posts or legs on railings. They can be made of wood, iron, stone, or other materials. They are installed at the edge/side of a balcony or staircase to provide safety and prevent people from falling. Balustrades are available in various materials such as stainless steel, wood, glass, and a combination of wood and glass.
Increase in Consumer Preference and Safety Considerations to Drive Balustrade Market
Balustrades can be used as a decorative material to add ornamentation to a building and its surroundings. A majority of consumers prefer balustrades over conventional walls for enhancing the look and safety of balconies and railings. Balustrades also add to individual characters and aesthetics of a building.
Popularity of glass railings has grown in recent years. The current technology makes these railings safe and more affordable for installation on stairs, landings, or balconies and around a yard, pool, or porch.
Thus, consumer preference and safety considerations are expected to be major drivers of the balustrade market during the forecast period
Moreover, the concept of eco-friendly or 'green' buildings has gained momentum globally over the past few years, as balustrade constructors have developed glass balustrades by combining safety with solar power generation. High-quality railings combine the generation of solar power with colorful appearance of buildings in an innovative manner. This sustainably generated energy can be used for central facilities, which include lighting of central areas, electric doors, and lifts.
Thus, rise in demand for energy-efficient building solutions worldwide is estimated to be a major factor driving the balustrade market during the forecast period
Volatile Prices to Hamper Balustrade Market
Balustrade prices are inherently volatile, depending on location, accessibility, style, complexity, material type, experience of the contractor, and installation costs
The average price of a glass railing system ranges anywhere from US$ 140 to US$ 270 per linear foot, which is quite high. This high price is attributable to complexity and accessibility of the product.
The average price of a stainless steel balustrade railing falls within the range of US$ 80–90 per square foot, whereas the average price of an aluminum balustrade railing is US$ 80 per square foot
Additionally, the average labor charges in the U.S. are within the range of US$ 20–200 per linear foot. On the other hand, hourly rates range anywhere from US$ 25 to US$ 100 per hour, depending on size of the installation crew.
Thus, volatility in balustrade prices is likely to hamper the balustrade market during the forecast period
Rapid Urbanization to Offer Opportunities
As population is growing worldwide and cities are getting crowded day by day, construction of public housing and commercial buildings has become an increasingly important matter for most governments across the globe
Construction is one of most important sectors in a majority of developing economies worldwide. It stimulates building infrastructure development and promotes growth of other sectors in an economy. With the recent rise in infrastructure development and construction activities, the global building materials industry has also witnessed considerable growth over the past few years.
Furthermore, growing population, improving economic conditions, rapidly increasing per capita income, and rising urbanization and industrialization offer lucrative opportunities to the balustrade market in developing economies
The European Social fund (ESF) is funding tens of thousands of residential projects across the European Union
China's Housing Ministry invested CNY 1.37 Trn (US$ 197.64 Bn) in a massive slum redevelopment project during the first three quarters of the year 2018. The project is expected to be completed by 2020.
These parameters are indicative of remarkable growth of the balustrade market. They also present significant opportunities for the market during the forecast period.
Recent Developments, Expansions, Acquisitions, and New Contracts
On March 11, 2019, Q-railing Europe GmbH & Co. KG introduced new glass balustrade trims. The new trim can easily create a clean joint between a glass balustrade and the adjacent flooring or paneling. The new glass balustrade can offer maximum transparency. The new design can also help create a seamless transition between glass railings and architectural structures around them.
Asia Pacific to be Highly Attractive Region of Balustrade Market
Asia Pacific is anticipated to be a highly attractive region of the balustrade market during the forecast period. The market in the region is estimated to expand at a significant pace during the forecast period, due to surge in investments in the infrastructure sector in developing countries in the region such as China, India, and countries in Southeast Asia. Increase in economic growth rate, per capita income, and rise in the living standards of people in the region are factors attracting investments toward the infrastructure sector in Asia Pacific.
Europe accounted for a major share of the balustrade market in 2018. Increase in efforts to improve health and safety of residents in buildings and rise in the demand to impart aesthetic look to residential and commercial establishments in the region are anticipated to propel the balustrade market in Europe during the forecast period.
Balustrade Market is Highly Competitive
The balustrade market is highly fragmented, with large-sized, multinational as well as small-sized players dominating the global market
Key players operating in the balustrade market are

S3i Group
Ozone Overseas Pvt. Ltd.
GOKING HARDWARE
Kelco Industries
ZENBI Co. Ltd
Wagner Architectural Systems
Thorndell Engineering
Q-railing Europe GmbH & Co. KG
C.R. Laurence Co., Inc.
Absolute Balustrades
SWR Ltd.
SG SYSTEM PRODUCTS
Steel and Glass Balustrades
Securerail Ltd
Balustrade Market – Scope of the Report
A latest study collated and published by Transparency Market Research (TMR) analyzes the historical and present-day scenario of the global balustrade market to accurately gauge its future development. The study presents detailed information about important growth factors, restraints, and key trends that are creating a landscape for future growth of the balustrade market so as to identify opportunities for stakeholders. The report also provides insightful information about how the balustrade market would expand during the forecast period i.e. 2019–2027.
The report offers intricate dynamics about different aspects of the balustrade market, which aids companies operating in the market in making strategic decisions. TMR's study also elaborates on significant changes that are highly anticipated to configure growth of the balustrade market during the forecast period. It also includes key indicator assessment to highlight growth prospects for the balustrade market and estimate statistics related to the market growth in terms of volume (thousand square meters) and value (US$ Mn).
This study covers a detailed segmentation of the balustrade market, along with key information and a competitive outlook. The report mentions company profiles of key players that are currently dominating the balustrade market, wherein various developments, expansions, and winning strategies practiced and executed by leading players have been presented in detail.
Key Questions Answered in TMR's Report on Balustrade Market
The report provides detailed information about the balustrade market on the basis of comprehensive research on various factors that are playing a key role in fueling the market. Information mentioned in the report answers path-breaking questions for companies that are currently operating in the market and are looking for innovative methods to create a unique benchmark in the balustrade market so as to help them design business strategies and make target-driven decisions.
Which application segment would emerge as a revenue generator for the balustrade market during the forecast period?
How are the key market players successfully earning revenues in the competitive balustrade market?
What would be the Y-o-Y growth rate of the balustrade market between 2019 and 2027?
What are the winning imperatives of leading players operating in the balustrade market?
Which railing type segment is expected to witness maximum growth potential during the forecast period?
Research Methodology – Balustrade Market
The research methodology adopted by analysts for compiling the balustrade market report is based on detailed primary as well as secondary research. With the help of in-depth insights of the market-related information obtained and legitimated by market-admissible resources, analysts have offered riveting observations and authentic forecasts of the balustrade market.
During primary research, analysts have interviewed market stakeholders, investors, brand managers, vice presidents, and sales and marketing managers. Based on the data obtained through interviews with genuine resources, analysts have focused on the changing scenario of the balustrade market.
For secondary research, analysts have scrutinized numerous annual report publications, white papers, industry association publications, and company websites to obtain the required understanding of the balustrade market.
Balustrade Market - Segmentation
TMR's research study assesses the balustrade market in terms of railing type, material, application, and region. This report presents extensive market dynamics and progressive trends associated with different segments of the market and how they are influencing the growth prospects of the balustrade market.
Railing Type

Interior Railing

Exterior Railing

Material

Stainless Steel

Glass

Wood

Others (including Aluminum and Strand Wire)

Application

Residential

Non-residential

Region

North America

Europe

Asia Pacific

Middle East & Africa

Latin America
Custom Market Research Services
TMR offers custom market research services that help clients to get information on their business scenario required where syndicated solutions are not enough.
REQUEST CUSTOMIZATION