Air Deflector Market
Air Deflector Market (Material - Acrylic, Fiberglass, ABS Plastic; Mounting Method - Tape-on Deflectors, Bolt-on Deflectors, In-channel Deflectors; Manufacturing Process - Casting, Molding, Vacuum Forming; Position - Bug Deflector, Window Air Deflector, Front Air Spoiler, Rear Air Spoiler, Roof Air Deflector; Sales Channel - OEM, Aftermarket; Vehicle Type - Passenger Vehicle, Commercial Vehicle ) - Global Industry Analysis, Size, Share, Growth, Trends, and Forecast 2018 - 2026
Category :

Automotive & Transport

Format :
Air Deflector Market - Snapshot
Vehicle speed and efficiency are greatly influenced by aerodynamics and hence, it has been playing a vital role in the automotive industry since its introduction. Engineers began designing vehicles with proper aerodynamic shape when they discovered the significant impact aerodynamic shape has on vehicle efficiency and speed. For existing vehicles, air deflectors were introduced as an add-on accessory that enhanced vehicle aerodynamics. An improper design increases the vehicle drag and affects the vehicle efficiency. An accurately designed air deflector reduces the vehicle drag by redirecting the air flow. At speeds of above 60 mph, the vehicle tends to get lifted by the upward force of air passing beneath the vehicle and thus, increases the chances of accidents. Some incidence have been recorded when vehicles lost control at high speeds owing to the large lift force. A simple front air spoiler can avoid such accidents. An air spoiler placed exactly under the front bumper prevents the air from passing underneath the vehicle, and a deflector placed at the rear end of the vehicle redirects the air, thus increasing the down force, which resist the tendency of air to lift the vehicle. A window air deflector allows the passenger to roll down the windows even when it's raining or snowing outside. The window deflector allows fresh air to enter the vehicle cabin and thus, reduces the load of the air conditioning on the engine.
Enhanced aerodynamic accuracy of the vehicle, ability to allow fresh air to enter the vehicle cabin by partially rolling down the windows, marginal increase in efficiency of vehicle, protection of body paint from getting spoiled by small debris and particles, improved vehicle control at high speeds, and enhanced appearance of the vehicle are advantages of the air deflector and key drivers of the automotive air deflector market. A windows air deflector typically enables the passengers to partially roll down the windows, which keeps the vehicle cool even when parked under the direct sun. It allows the fresh air to enter the vehicle cabin, which enables the passengers to switch off the air conditioning system and thus, reduces the load over the engine and increases vehicle efficiency. While driving, dust, bugs, and small debris and pebbles crash into the vehicle front body and front windshield, which reduces visibility as well it damages the body paint. A bug deflector changes the air flow direction and thus deflects the bugs, dust, and small debris away from vehicle body. Vehicles with sunroof are gaining popularity in the market. However, when the roof is kept open, it allows the air to enter inside and thus, increases the drag force and reduces vehicle efficiency. Air entering the vehicle produces an annoying noise. Placing an air deflector in front of the sunroof changes the direction of air flow and prohibits it from entering inside the vehicle. Furthermore, an air deflector is witnessing high demand as it improves the appearance of the vehicle when mounted on it.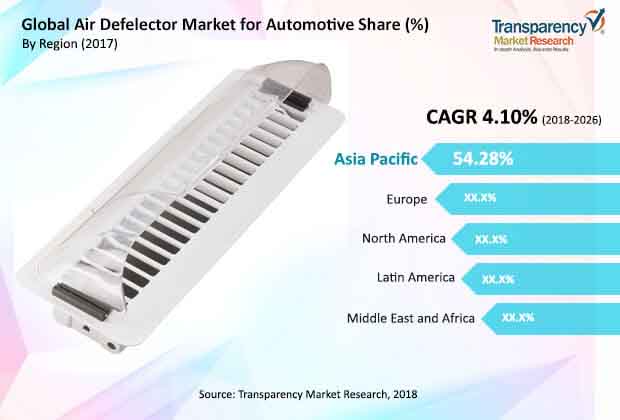 Rear deflectors do not prove useful at speeds below 60 mph, except improve the appearance of the vehicle. This is a big restraint to the automotive air deflector market. Another restraint to the market is the need for accurate design. An air deflector is unlikely to perform the task it is incorporated for, if it is not designed accurately.
Windows air deflector is major a segment of the automotive air deflector market, in terms of revenue, as they are always effective regardless of vehicle speed and the weather conditions. Moreover, most consumers prefer to have them on the vehicle as they allow fresh air to enter inside the vehicle cabin. Consequently, long route travelers prefer them on their vehicles. Vehicles used for ride sharing are witnessing a significant demand for air deflectors owing to their advantage of allowing the passengers to roll down the windows in rain, snowfall, and even at high speeds. Front air spoilers are popular on the SUVs and mid-sized cars owing to the enhanced appearance they lend to the vehicle. Europe and Asia Pacific have been witnessing an increase in demand for SUVs. This is likely to offer numerous opportunities for front air spoiler manufacturers. The front air spoiler segment is likely to expand at a CAGR of 3.90% during the forecast period.
It is mandatory for windows air deflectors and the bug deflectors to be transparent in Europe and North America. Therefore, acrylic is mostly preferred for manufacturing these air deflectors. Moreover, acrylic is also preferred for roof air deflectors. In other regions there is no such regulation, and hence, fiberglass as well as the ABS plastic are widely utilized. Some manufacturers manufacture deflectors from metals such as aluminum and steel. However, these are not preferred for passenger vehicles.
Molding is a speedy, accurate, and cost-effective process of manufacturing deflectors. Consequently, most deflectors are manufactured by this method. Vacuum forming process is also widely utilized for manufacturing deflectors, as it is remarkably accurate and comparatively cost-effective. Different methods are used for mounting a deflector on a vehicle. Among them, the tape-on method is highly popular owing to its ease of mounting and dismounting. It consists of a double-sided automotive grade tape, which sticks on the vehicle surface. A deflector mounted with tape-on method does not spoil the vehicle surface and can be replaced very easily. There is no need of drill holes in the vehicle body, which damages the vehicle body. Therefore, consumers prefer the tape-on mounted deflector. Most window air deflectors, bug deflectors, and roof air deflectors are mounted with this method. Deflectors that require high rigidity are mounted with the bolt-on mounting method. Front air spoilers, some bug deflectors, and rear air spoilers are mounted by bolt-on method. The tape-on deflector segment dominated the automotive air deflector market in 2016. The segment is anticipated to expand at a CAGR of 4.24% between 2018 and 2026.
The automotive air deflector market is dominated by the aftermarket segment, as variety of deflectors are available, and those can be fitted on any model of vehicle. Several OEMs have begun providing windows air deflectors and front air spoilers as standard or optional equipment for their vehicles owing to the rising demand for different types of air deflectors. This tendency of OEMs is likely to propel the OEM segment of the market at a steady pace during the forecast period.
North America is a significant market for commercial vehicles. It has near about 80% of penetration of windows air deflectors for the commercial vehicle segment. This is due to the large mining industry, followed by the expansion of construction, agriculture, and manufacturing industries. This in turn is boosting the demand for commercial vehicles in North America and Latin America. Therefore, the automotive air deflector market is likely to face opportunities for the commercial vehicle segment. Asia Pacific consists of densely populated countries such as China and India. Asia Pacific accounts for about half the world's population. Several countries of Asia Pacific are witnessing rapid development due to the raised per capita income and improved GDP of those countries. Consequently, sales of passenger vehicles in the region have risen by 5.2% in 2017 and expected to have a boosted demand for the same.
Key players operating the automotive air deflector market include Hatcher Components, Peidmont Plastics, Spoiler factory, DGA, ELLEDI srl - P.I. e C.F., and Lund International. Recently, Hatcher Components launched smart spoilers that adjust according to the height of the trailer. The company claims that this spoiler is likely to enhance convenience, as there is no need for manual adjustment.
Air Deflector Market - Overview
This report analyzes and forecasts the market for automotive air deflector at the global and regional level. The market has been forecast based on revenue (US$ Mn) and volume (Mn Units) from 2018 to 2026. The study includes drivers and restraints of the global air deflector market for automotive. It also covers the impact of these drivers and restraints on the demand for air deflector during the forecast period. The report also highlights opportunities in the air deflector market for automotive at the global and regional level.
The report comprises a detailed value chain analysis, which provides a comprehensive view of the global air deflector market for automotive. The Porter's Five Forces model for the air deflector market for automotive has also been included to help understand the competitive landscape in the market. The study encompasses market attractiveness analysis, wherein product is benchmarked based on their market size, growth rate, and general attractiveness.
The study provides a decisive view of the global air deflector market for automotive by segmenting it in terms of material type, mounting method type, manufacturing process type, position, sales channel, vehicle, and region. These segments have been analyzed based on present and future trends. Regional segmentation includes the current and forecast demand for air deflector in North America, Europe, Asia Pacific, Latin America, and Middle East & Africa. The report also covers demand for individual segments in all regions.
The study includes profiles of major companies operating in the global air deflector market for automotive. Market players have been profiled in terms of attributes such as company overview, financial overview, business strategies, recent developments, executive bios, and manufacturing footprint. The market for air deflector is primarily driven by the enriched look of the vehicle with air deflectors and its ability to allow the fresh air to enter inside the vehicle by keeping the window slightly open.
The report provides the estimated market size of air deflector for 2017 and forecast for the next nine years. The global market size of air deflector has been provided in terms of revenue and volume. Market numbers have been estimated based on material, mounting method, manufacturing process, position, sales channel, vehicle, and regional segments of automotive air deflector. Market size and forecast for each material, mounting method, manufacturing process, position, sales channel, and vehicle have been provided in terms of global and regional/country markets.
In order to compile the research report, we conducted in-depth interviews and discussions with a number of key industry participants and opinion leaders. Primary research represents the bulk of research efforts, supplemented by extensive secondary research. We reviewed key players' product literature, annual reports, press releases, and relevant documents for competitive analysis and market understanding. Secondary research also includes a search of recent trade, technical writing, internet sources, and statistical data from government websites, trade associations, and agencies. This has proven to be the most reliable, effective, and successful approach for obtaining precise market data, capturing industry participants' insights, and recognizing business opportunities.
Secondary research sources that are typically referred to include, but are not limited to company websites, annual reports, financial reports, broker reports, investor presentations, and SEC filings, internal and external proprietary databases, and relevant patent and regulatory databases, national government documents, statistical databases, and market reports, news articles, press releases, and webcasts specific to companies operating in the market, National government documents, statistical databases, and market reports, American Automobile Association, European Automobile Manufacturers Association, Automotive Research Association of India, Organisation Internationale des Constructeurs d'Automobile (OICA), Factiva, etc.
Primary research involves e-mail interactions, telephonic interviews, and face-to-face interviews for each market, category, segment, and sub-segment across geographies. We conduct primary interviews on an ongoing basis with industry participants and commentators in order to validate the data and analysis. Primary interviews provide firsthand information on market size, market trends, growth trends, competitive landscape, and outlook, etc. These help validate and strengthen secondary research findings. These also help develop the analysis team's expertise and market understanding.
The global air deflector market for automotive has been segmented as follows:
Material

Acrylic
Fiberglass
ABS Plastic
Others

Mounting Method

Tape-on Deflectors
Bolt-on Deflectors
In-channel Deflectors

Manufacturing Process

Casting
Molding
Vacuum Forming

Position

Bug Deflector
Window Air Deflector
Front Air Spoiler
Rear Air Spoiler
Roof Air Deflector

Sales Channel

Vehicle

Passenger Vehicle
Commercial Vehicle

Region/Country/Sub-region

North America
Europe

Germany
U.K.
France
Italy
Spain
Rest of Europe

Asia Pacific

China
India
Japan
ASEAN
Rest of Asia Pacific

Middle East & Africa

GCC
South Africa
Rest of Middle East & Africa

Latin America

Brazil
Mexico
Rest of Latin America
Custom Market Research Services
TMR offers custom market research services that help clients to get information on their business scenario required where syndicated solutions are not enough.
REQUEST CUSTOMIZATION

Automotive Air Deflectors Market