Global Audiobooks Market: Introduction
An audiobook is a transcription of a book or other work being read aloud. Technological advances in production have led to digital recording, e-mail delivery of documents, and usage of tablets instead of hard copy texts. The expansion of home studios for narrators have also shortened the time taken to manufacture audiobooks and reduced manufacturing costs. However, the effect of coronavirus has directly hindered the growth of the audiobooks market. As a consequence of the coronavirus lockdown, majority of classrooms, universities, academic institutions, and commercial entities have closed down, which significantly hampers the market for audiobooks.
Global Audiobooks Market: Dynamics
Increase in younger listener inventory

Currently, the trend is toward a younger and increasing user base for audiobooks. This is an important optimistic development for the sustainable growth of the industry. The younger consumer is expected to influence their growing families, probably transforming a non-listener into a listener. Younger participants can also have an influence on their peers, contributing to a broader group of peers and a greater emphasis on peer opinions by young people. Younger customers may have different listening requirements as well. In the early stages of their careers and their lives, people are more likely to listen to titles that guide them or provide an entry point, while a more skilled person may try pure humor or realistic advice rather than self-improvement. Thus, listening and buying can differ by age demographic, expanding the variety of audio items on sale.
Are you a start-up willing to make it big in the business? Grab an exclusive PDF sample of this report
North America Led the Global Market in 2019
Based on region, the global audiobooks market can be segmented into North America, Europe, Asia Pacific, South America, and Middle East & Africa.
North America held a dominant share of the global audiobooks market in 2019. It is expected to continue its dominance throughout the forecast period. The U.S. and Canada are major countries that drive the market in this region. The dominance of digital sales is a major factor in the region. Audiobooks are easy to buy and store. Portability, the ability to multi-task, and the ability to listen anywhere the user wishes, are the main drivers that impact the market for audio books. In fact, digital devices such as smartphones are now commonplace, so audiobook exposure is easy and convenient.
The audiobooks market in Asia Pacific is expected to expand at the highest CAGR during the forecast period. China, India, and Japan are some of the major countries which drive the market in this region.
Expanding operations in future? To get the perfect launch ask for a custom report
Key Players Operating in the Global Market
Key players operating in the global audiobooks market are listed below:
Amazon
Google
Kobo
LibriVox
Downpour
Scribd
OverDrive
BarnesNoble BooksellersInc
Global Audiobooks Market: Research Scope
Global Audiobooks Market, by Enterprise Size
Small & Medium Enterprises
Large Enterprises
Figure: Global Audiobooks Market, by Enterprise Size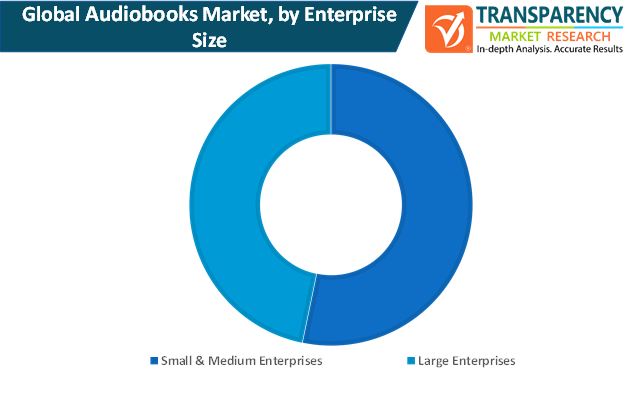 Global Audiobooks Market, by Application
Schools
Educational Institutes
Industries/Commercial Sector
Global Audiobooks Market, by Region
North America

U.S.
Canada
Rest of North America

Europe

Germany
France
U.K.
Italy
Spain
Russia
Rest of Europe

Asia Pacific

China
Japan
India
Australia
Rest of Asia Pacific

South America

Brazil
Rest of South America

Middle East & Africa

GCC
South Africa
Rest of Middle East & Africa
Disclaimer: This ongoing market research study is a meticulously planned activity where a broad array of factors and aspects that shape the marketing environment and industry are taken into account. However, keeping in mind the constantly changing nature of business dynamics and changing strategic intents, we are always actively making iterations and modifications in our approaches. As always, we are ready to tailor our insights and guidance to suit your requirements. Engage with us to know what more is there for your CXOs.