Shrimp Balls Market
Shrimp Balls Market (End Use: Foodservice and Household/Retail; and Distribution Channel: Business to Business and Business to Consumer) - Asia Pacific Industry Analysis, Size, Share, Growth, Trends, and Forecast, 2020-2030
Food & Beverages
TMRGL81789
2021-03-19
127

Pages
Decline in Global Demand Due to COVID-19 Affects Import, Export
The COVID-19 crisis has caused small impact on the Asia Pacific shrimp balls market. A spurt in retail, packaged foods, and eCommerce sales has led to an increase in the uptake of frozen food. However, a slowdown in production activities, restricted movement of carriers, and decline in consumer spending are anticipated to affect sales of shrimp balls.
DIY (Do It Yourself) recipes and home delivery services are keeping economies running in the Asia Pacific shrimp balls market. As such, India's shrimp exports are witnessing lows due to the weakening of the global demand, owing to the coronavirus crisis. This is causing a domino effect on imports in China and U.S. that are key importers of seafood from India.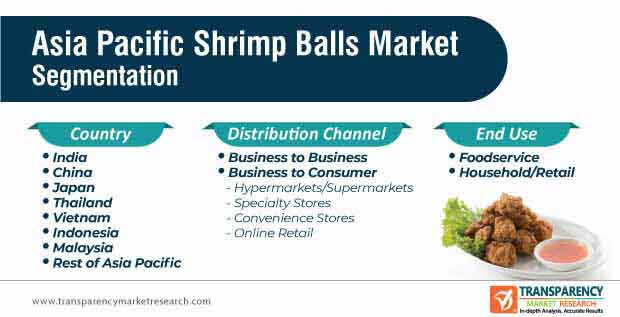 Request a sample to get extensive insights into the Shrimp Balls Market
Innovations in Foodservice Help Overcome Competition with Plant-based Foods
The Asia Pacific shrimp balls market is projected to reach US$ 135 Mn by the end of 2030. However, trends such as plant-based food and meat alternatives are storming the Asian markets. For instance, California-based Impossible Foods Inc., a developer of plant-based substitutes for meat products, is increasing efforts to gain strong business grounds in China. Hence, manufacturers are innovating in foodservices such as California's renowned Porto's Bakery & Café, which is earning praises for its Seafood Potato Balls consisting of shrimp, calamari, cilantro, and scallops flavored with garlic, lemon zest folded in a spicy tomato sauce.
Home cooking is another driver for the Asia Pacific shrimp balls market, owing to easy preparation of crispy fried shrimp balls.
To understand how our report can bring difference to your business strategy, Ask for a brochure
Conveniently Packaged Seafood, Functional Products Preferred by Japanese Consumers
Apart from China, Japan is emerging as one of the key importers and exporters of shrimp and other seafood. Frozen crabs, frozen lobsters, and frozen cold-water shrimp and prawns are being supplied by Canada to Japan. However, exporters need to bear in mind the regulatory guidelines of Japan since Japanese consumers are health conscious and seek conveniently packaged & processed seafood products. This is creating business opportunities for companies in the Asia Pacific shrimp balls market to innovate in product packaging and processing.
Japan's focus on functional, healthy, and nutritious food is translating into revenue opportunities for various importers and exporters.
China-based Innovators Excel in Manufacturing of Customized Frying Equipment, Extruders
Chicken and shrimp are being publicized as rich sources for protein. Innovations in shrimp balls frying machines are translating into revenue opportunities for manufacturers in the Asia Pacific shrimp balls market. The ever-increasing foodservice industry has fueled the demand for customized, electric, and automatic shrimp balls frying machines that are CE and ISO (International Organization for Standardization) certified. As such, China is one of the active manufacturers of these machines.
Innovations in cat, floating fish, and shrimp balls and pellet food extruder machines are contributing toward the revenue growth of the Asia Pacific shrimp balls market. This signals why the market is projected to register a healthy CAGR of 6.9% during the forecast period.
Restaurant-style Recipes Using Seasoned Shrimp Balls Fuels Demand in Households
Health conscious consumers are pairing shrimp balls with noodles and soups, while other consumers prefer fried or grilled shrimp balls. Since millennials are always on the pry to experiment with new sauces, flavors, and herbs, deep fried shrimp balls are gaining popularity. Consumers in households are trying restaurant-style recipes by using seasoned shrimp paste mixture that is formed into deep fried shrimp balls. Changing consumer trends are influencing the growth of the Asia Pacific shrimp balls market.
Shrimp meatballs in tomato sauce and honey garlic grilled shrimp balls recipes are gaining popularity among millennials, Gen Y, and Gen Z population. Manufacturers in the Asia Pacific shrimp balls market are taking marketing cues from German brand Knorr, which has introduced its deep fried shrimp balls with cheese and plum filling recipe.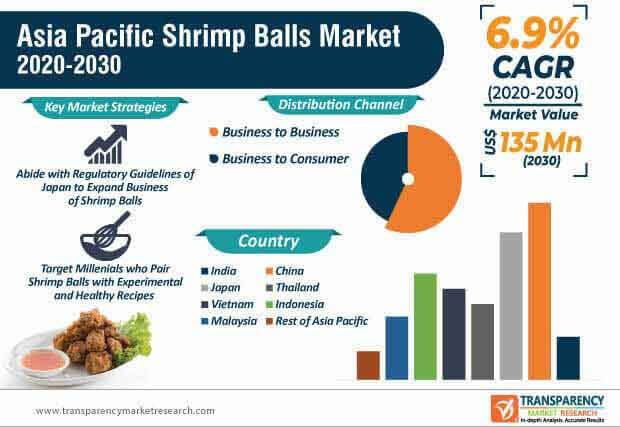 Stuck in a neck-to-neck competition with other brands? Request a custom report on Shrimp Balls Market
Analysts' Viewpoint

A sharp decline in the demand from China for seafood is anticipated to affect trade activities in India during the coronavirus crisis. Nevertheless, an increasing number of households is gravitating toward home cooking to upgrade their protein profiles using grilled shrimp balls dipped in sweet-and-sour sauce. However, in order to capitalize on the expanding area of new demand for nutrient-rich food for Japanese consumers, stakeholders in the Asia Pacific shrimp balls market should adhere to strict packaging and processing guidelines. Elderly and aging population of Japan is grabbing the attention of Asian food producers. Experiments with shrimp balls in the foodservice industry with a variety of ingredients and recipes are fueling product demand.
Asia Pacific Shrimp Balls Market: Overview
In the recent market study on Asia Pacific shrimp balls market by Transparency Market Research, the market value for 2020 was estimated at US$ 68 Mn. The market is expected to witness a value CAGR of 6.9% during the forecast period. According to the recent report, the market is projected to reach US$ 135 Mn by the end of 2030.
Japan and China are expected to dominate the Asia Pacific shrimp balls market in terms of volume. Both countries are the two largest markets in the region, followed by Indonesia and Vietnam. Rapid urbanization and high consumer expenditure growth in Japan and China are anticipated to the drive the Asia Pacific shrimp balls market.
Trends such as 'Healthy Snacking' and 'Ready-to-cook Food Consumption' are promoting the consumption of shrimp balls. Additionally, growing commercial use of shrimps is opening new avenues for players in the shrimp balls market.
Asia Pacific Shrimp Balls Market: Key Takeaways
Based on end use, the foodservice segment is expected to dominate the Asia Pacific shrimp balls market, owing to favorable factors such as increasing individual income levels, rapid urbanization, and growing 'eating out' trend in the Asian market. The foodservice industry is projected to hold approximately 60% of the total value share in the Asia Pacific shrimp balls market.
In terms of distribution channel, the indirect sales of shrimp balls in Asian markets is anticipated to witness high volume CAGR of approximately 7%, owing to the emergence of modernized distribution channels with better storage facilities
Geographically, the performance of the India shrimp balls market is forecast to accelerate, with an expected CAGR of 8.4% during the forecast period. Rapid urbanization and increased acceptance of seafood products are the major factors driving the shrimp balls market in this country.
Asia Pacific Shrimp Balls Market: Trends
Changing landscape of foodservice industry in Asia: The Asian foodservice industry is expected to witness an upward trend during the forecast period, especially in Malaysia, Indonesia, Thailand, India, and few other countries. Favorable factors such as rising disposable incomes and rapid urbanization are supporting the growth of the 'out-of-the-home eating' trend in these regions. Moreover, the growing population is expected to trigger the demand for foodservice outlets. Owing to these factors, consumer expenditure at foodservice outlets is anticipated to witness exponential growth in Asia. This makes the Asian foodservice industry one of the most vibrant industries and a key element in the economic development prospects of this region. The emerging foodservice industry in Asia can be considered as a major factor influencing the demand for shrimp balls.
Development of modern distribution channels leading to easy outreach of seafood products: Developing markets of Asia are experiencing rapid rise in the number of online businesses, owing to the growth in demand for consumer goods. This has led to an exponential growth of the e-Commerce segment in this region. This, in turn, has shown a positive impact on the retail segment, leading to the increased demand for processed seafood products. The adoption of digital channels by the consumers has benefited all kinds of businesses, including import-export markets. Key players are also offering shrimp balls in bulk quantities for customers in the foodservice industry, which makes it convenient for them to choose and order the right product. The increasing number of convenience stores in emerging markets is increasing consumers' access to new products. The rising penetration of both e-business and retail stores in Asia is anticipated to drive sales of shrimp balls.
Strategies Adopted by Manufacturers to Increase Sales of Shrimp Balls
Shrimp ball manufacturers are strategically positioning their products by participating in food-based product summits and showcasing the application of shrimp balls in the food processing industry. With this participation, key players aim to connect with potential buyers and generate meaningful leads to create a strategic gateway to penetrate into untapped global markets.

For instance, in June 2019, I.T. Foods Industries Co., Ltd. participated at the THAIFEX-World of Food Asia
In June 2019, Thai Agri Foods Public Co. Ltd. participated in the THAIFEX World Food event. With this, the company also aimed to promote its products in different markets and strengthen its global presence.

In order to ensure a competitive edge in the Asia Pacific shrimp balls market, majority of the key players engaged in the production of shrimp balls are taking efforts to strengthen its regional footprint
Asia Pacific Shrimp Balls Market: Key Players
Some of the key players engaged in the manufacturing of shrimp balls are

I.T. Foods Industries Co., Ltd
Starfish Co., Ltd.
Thaveevong Industry Co., Ltd.
Thai Agri Foods Public Company Limited
Kenko Food Sdn Bhd
Fresh Fish del Ecuador Cia. Ltda.
Kim Sea Food Products
Huazhi-wang Enterprise Co., Ltd.
Fisherman's Choice.
P.T. Foods Processing Co. Ltd.
Asia Pacific Shrimp Balls Market – Scope of the Report
Transparency Market Research (TMR) has recently published a market study on the shrimp balls market. It provides a detailed assessment of key market dynamics, including drivers, trends, opportunities & restraints, and detailed information about the shrimp balls market structure. The market study presents exclusive information about how the shrimp balls market will grow during the forecast period of 2020-2030.
Key indicators of market growth, which include year-on-year (Y-o-Y) growth of the market, value chain, supply chain analysis, and compounded annual growth rate (CAGR) are elaborated in the study in a comprehensive manner. This information is intended to help readers understand the quantitative growth prospects of the shrimp balls market during the forecast period.
The study is intended to offer a holistic market overview to stakeholders in the shrimp balls market, including manufacturers, suppliers, distributors, cultivators, brands and investors, and to help them develop winning growth strategies. Stakeholders in the shrimp balls market, which include investors, industry experts, researchers, and journalists, and business researchers can leverage the information and data presented in TMR's study.
The study also includes statistics and facts related to the macro as well as microeconomic factors that are impacting the expansion of the market. It also offers actionable insights into the future trends in the shrimp balls market. Furthermore, small businesses and new entrants in the shrimp balls market can make use of the information presented in this study based on which, they can make appropriate business decisions in order to gain momentum in the market.
Key Questions Answered in TMR's Asia Pacific Shrimp Balls Market Report
Which region will continue to remain the most profitable region for shrimp balls market players?
Which factors will induce a change in the demand for shrimp balls during the assessment period?
How will the changing trends impact the Asia Pacific shrimp balls market?
How can market players capitalize on the low-hanging opportunities in the shrimp balls market in developed regions?
Which companies are leading the Asia Pacific shrimp balls market?
What are the winning strategies of stakeholders in the shrimp balls market to catapult their position at the forefront?
Asia Pacific Shrimp Balls Market – Research Methodology
In TMR's study, a unique research methodology is used to conduct extensive research on the growth of the shrimp balls market and identify future growth parameters. This research methodology is a combination of primary and secondary research to help analysts ensure the accuracy and reliability of the conclusions.
Secondary sources referred to by analysts for compiling the shrimp balls market study include statistics from governmental organizations, trade journals, white papers, and internal and external proprietary databases. Analysts have interviewed senior managers, product portfolio managers, CEOs, VPs, marketing/product managers, and market intelligence managers, who contributed to the development of this report as a primary source.
Information acquired from primary sources and secondary sources is compiled in a comprehensive manner. This also acts as a validation from companies in the shrimp balls market, which makes TMR's projections more accurate and reliable.
Asia Pacific Shrimp Balls Market – Segmentation
TMR's study on the shrimp balls market offers information divided into important segments — end use, distribution channel, and country. This report offers comprehensive data and information about the important market dynamics and growth parameters associated with these categories.
End Use

Foodservice
Household/Retail

Distribution Channel

Business to Business
Business to Consumer

Hypermarkets/Supermarkets
Specialty Stores
Convenience Stores
Online Retail

Country

India
China
Japan
Thailand
Vietnam
Indonesia
Malaysia
Rest of Asia Pacific
Custom Market Research Services
TMR offers custom market research services that help clients to get information on their business scenario required where syndicated solutions are not enough.
REQUEST CUSTOMIZATION

Asia Pacific Shrimp Balls Market