Methyl Tertiary-Butyl Ether (MTBE) Market
Methyl Tertiary-Butyl Ether (MTBE) Market (Application - Gasoline, Isobutene, Solvent & Extract, and MMA) Asia Pacific Industry Analysis, Size, Share, Growth, Trends, and Forecast 2016 - 2026
Category :

Chemicals & Materials

Format :
MTBE, a fuel oxygenate, is solely utilized as a fuel added substance. Fuel oxygenates don't normally appear in gasoline. Rather, they are added to build gasoline's oxygen content. By expanding it, gasoline fires up better, hence bringing down destructive emission from vehicles and reducing pollution. MTBE was first utilized as a fuel oxygenate in the United States in 1979. In 1992, MTBE started to be utilized in higher focuses to satisfy oxygenate needs set by the 1990 Clean Air Act Amendments (CAA). As a feature of the Energy Policy Act of 2005, Congress evacuated the oxygen content need for reformulated gasoline. In answer to this Act, organizations have changed from MTBE to ethanol. Since 2005, MTBE has not been utilized in noteworthy amounts in the gasoline business.
The Methyl Tertiary Butyl Ether (MTBE) market is projected to reach US$10.9 bn by 2026 from an estimated US$6.7 bn in 2015, at a CAGR of 4.6% from 2016 to 2026. Major reason boosting the MTBE market are the rising demand from the gasoline use, growing demand for the MTBE oxygenate, along with stringent environmental regulations in the emerging economies.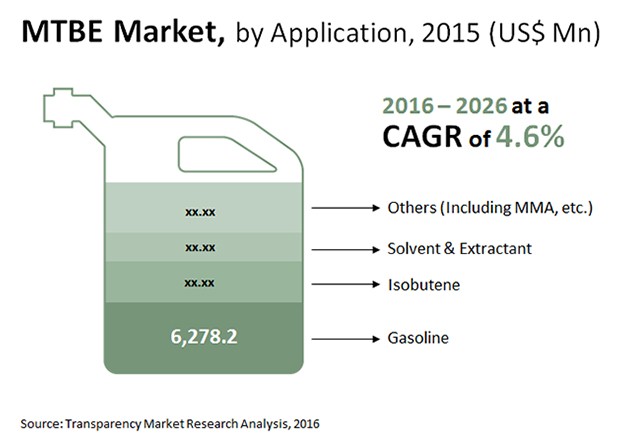 High-Consumption of Gasoline Lead the Global Methyl Tertiary-Butyl Ether (MTBE) Market
In view of application, the global MTBE market is divided in to gasoline, isobutene, solvent and extraction, and MMA. Among these, the gasoline portion is expected to lead the MTBE market amid the estimate time frame. The greater part of the MTBE is utilized for gasoline mixing because of its high utilization regarding volume. At the point when utilized in gasoline motors, it allows decrease in the thumping impact that leads to inefficient consuming and motor harm. MTBE has been utilized in gasoline since 1979 because of ecological and wellbeing concerns. The utilization of MTBE as gasoline added substance began with the substitution of metallic added substances, for example, lead and Methylcyclopentadienyl Manganese Tricarbonyl (MMT).
Asia Pacific Holds a Bright Future in the Methyl Tertiary-Butyl Ether (MTBE) Market
APAC is the largest consumer of MTBE for gasoline blending due to the expanding vehicle fleets and growing urbanization in the region. Geographically, Asia-Pacific market occupied the largest share in MTBE consumption. The widespread availability of MTBE as a cheap feedstock, coupled with it being an attractive substitute to aromatics in gasoline, is driving the Asia-Pacific market. Europe and North America will also prevail as major markets for methyl tertiary-butyl ether, in terms of value. There has been a steady expansion of the refinery sector in these regions since the recent past. Anti-knocking properties of MTBE suits well to reduce wear & tear of the heavy-duty machinery in this sector.
Occupancy of numerous key suppliers is a major factor responsible for the fragmented nature of the global methyl tertiary-butyl ether market. Leading players in the market have prominent geographical presence coupled with enormous production facilities situated in countries including The U.S. and China. Growing demand for MTBE across various end-use industries has intensified the competition among players, compelling them to develop and offer high-quality products at competitive prices. Key players elucidated in the report include Reliance Industries Ltd., PETRONAS, LyondellBasell Ind. Holdings B.V., and Evonik Industries AG.
Asia Pacific Methyl Tertiary-Butyl Ether (MTBE) Market: Overview
MTBE is a flammable, highly volatile colorless liquid that is sparingly soluble in water. It is one of the octane boosters used in gasoline blending across the globe. MTBE is typically produced by the chemical reaction of isobutylene and methanol in the presence of heat and catalyst. It is used in several end-user industries through its downstream products. However, in terms of application, the petroleum blending segment accounts for significant share of the MTBE market. Demand for MTBE in Asia Pacific is primarily concentrated in China and ASEAN.
Asia Pacific Methyl Tertiary-Butyl Ether (MTBE) Market: Scope of the Study
The report provides in-depth analysis and forecast of the MTBE market in Asia Pacific. It comprises forecast for the period from 2016 to 2026 in terms of volume (kilo tons) and revenue (US$ Mn). In order to compile the research report, in-depth interviews and discussions with a number of key industry participants and opinion leaders have been conducted. Primary research represents a bulk of research efforts, supplemented by extensive secondary research. Key players' product literature, annual reports, press releases, and relevant documents have been reviewed for competitive analysis and market understanding. Secondary research includes a search of recent trade, technical writing, Internet sources, and statistical data from government websites, trade associations, and agencies. This has proved to be a reliable, effective, and successful approach for obtaining precise market data, capturing industry participants' insights, and recognizing business opportunities.
Secondary research sources that are typically referred to include, but are not limited to company websites, annual reports, financial reports, broker reports, investor presentations, SEC filings, Plastemart magazine, TPE magazine, internal and external proprietary databases, relevant patent and regulatory databases such as ICIS, Hoover's, oneSOURCE, Factiva, and Bloomberg; national government documents, statistical databases, trade journals, market reports, news articles, press releases, and webcasts specific to companies operating in the market.
Asia Pacific Methyl Tertiary-Butyl Ether (MTBE) Market: Research Methodology
We conduct primary interviews on an ongoing basis with industry participants and commentators to validate data and analysis. These help validate and strengthen secondary research findings. These also help develop the analysis team's expertise and market understanding.
Detailed analysis of various factors driving the MTBE market in Asia Pacific has been included for incisive decision-making. Impact of these drivers has been analyzed with the data to support research findings. Furthermore, factors restraining the market growth have been included for better understanding of the market. Impact of these restraints has been analyzed over the course of the forecast period. The report also comprises various opportunities available for market growth during the next 10 years. Opportunities entail untapped or recently explored factors that are anticipated to drive the MTBE market in Asia Pacific during the forecast period.
Porter's Five Forces Model has been utilized to determine the degree of competition in the MTBE market in Asia Pacific during the forecast period. Furthermore, market attractiveness analysis has been conducted to analyze application segments that are expected to be lucrative during the forecast period. This is based on various factors such as market size, growth rate, profitability, governmental regulations, and competition in the respective application segment. In order to gauge the demand-supply scenario, historical data from 2011–2015 has been incorporated in the report. Moreover, the present and past capacity additions (overall production capacity) and production utilization rate have also been discussed in the report.
Based on application, the MTBE market in Asia Pacific has been segmented into gasoline, isobutene, solvent & extractant, and others. The report comprises detailed analysis of all segments of the MTBE market in Asia Pacific and forecast based on current and future trends in the market, in terms of volume (kilo tons) and revenue (US$ Mn). Demand for MTBE in every application segment has been analyzed and forecast for the period of 10 years.
This report segments the MTBE market in Asia Pacific as follows:
MTBE Market – Application Analysis

Gasoline
Isobutene
Solvent & Extractant
Others (MMA, etc.)

MTBE Market – Country/Sub-region Analysis
Custom Market Research Services
TMR offers custom market research services that help clients to get information on their business scenario required where syndicated solutions are not enough.
REQUEST CUSTOMIZATION

Asia Pacific Methyl Tertiary Butyl Ether Market