Asia Pacific Methyl Tertiary-Butyl Ether (MTBE) Market: Snapshot
Methyl tertiary-butyl ether (MTBE) is one of the leading gasoline additives worldwide. Ease of blending, reasonable pricing, and high octane level make MTBE a key oxygenate and ideal substitute for lead.
In terms of volume, the MTBE market in Asia Pacific is projected to expand by 50% from 2016 to 2026. The revenue growth is also expected to remain positive during the same period. However, significant expansions in the region in the next few years are likely to affect the market dynamics in terms of price rise, keeping it minimal during the forecast period.
China, Singapore, Malaysia, South Korea, and Taiwan are some of the prominent producers of MTBE in Asia Pacific, while China, South Korea, Singapore, and Malaysia are among the key consumers of methyl tertiary-butyl ether, especially as a gasoline additive.
The MTBE market in Asia Pacific was valued at US$6.7 bn in 2015 and is anticipated to reach US$10.9 bn by 2026, expanding at a CAGR of 4.6% therein.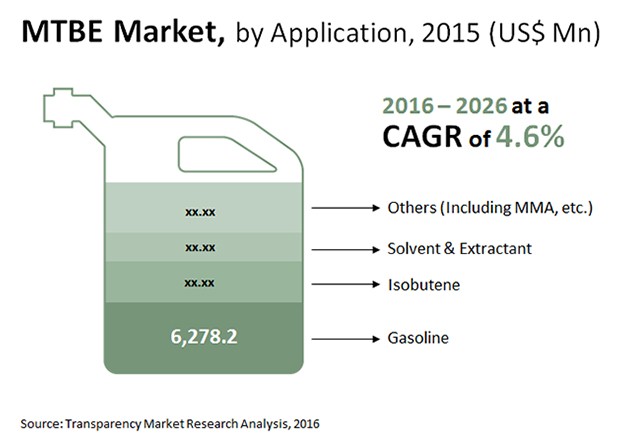 Rising Demand for Gasoline Additives Driving Demand for MTBE
Methyl tertiary-butyl ether finds application in gasoline, isobutene production, solvents and extractants, and others such as methyl methacrylate. In 2015, the gasoline segment accounted for the major share in the MTBE market in Asia Pacific, followed by isobutene.
MTBE is used as an additive (octane booster) in gasoline and petrol. A rise in the demand for oxygenates and octane boosters in Asia Pacific is anticipated to boost the demand for methyl tertiary-butyl ether in the gasoline segment. Rapid growth of the gasoline segment is also attributed to the development of the automotive industry.
The production of high purity isobutene is another key application of MTBE. An increase in the demand for isobutene in the production of polyisobutene, butyl rubber, and other downstream products is projected to drive the methyl tertiary-butyl ether market over the next decade. The expansion of the synthetic rubber industry (butyl rubber) is also projected to benefit the MTBE market in the region.
China Focused on Domestic Production of MTBE to Retain Lead in APAC
The MTBE market in Asia Pacific has been segmented on the basis of region into China, India, and ASEAN. China accounts for a significant share in the MTBE market, followed by ASEAN and India.
Gasoline is one of the major applications of methyl tertiary-butyl ether; therefore, a rise in the demand for gasoline in the automotive industry in China is anticipated to propel the demand for MTBE in the country. The China MTBE market is also projected to be augmented by the ongoing expansion of various end-use industries that employ downstream products with MTBE. This market depends majorly on imports from India, the ASEAN sub-region, and several countries in the Middle East such as Saudi Arabia and Qatar. However, of late, existing players in China have been focused on increasing their domestic production to meet the local demand. Untapped local players producing MTBE in small quantities are likely to boost the production of methyl tertiary-butyl ether in China, making the country a key producer in the next few years.
Countries such as Malaysia, Singapore, and Thailand primarily account for the production of MTBE in the ASEAN sub-region of Asia Pacific. A consistent growth in various end-user industries and the easy availability of raw material are key factors responsible for the growth in this market.
Major players operating in the MTBE market in Asia Pacific include Reliance Industries Limited, Malaysia Sdn Bhd (Petronas), Petrochemical Corporation of Singapore, ExxonMobil Chemical Company (Singapore), Indian Oil Corporation Limited, Bangkok Synthetics Co., Ltd. (Thailand), Pertamina (Thailand), Sinopec Jinling and Wanhua Chemical Group Co Ltd, and Bharat Petroleum.
Asia Pacific Methyl Tertiary-Butyl Ether (MTBE) Market: Overview
MTBE is a flammable, highly volatile colorless liquid that is sparingly soluble in water. It is one of the octane boosters used in gasoline blending across the globe. MTBE is typically produced by the chemical reaction of isobutylene and methanol in the presence of heat and catalyst. It is used in several end-user industries through its downstream products. However, in terms of application, the petroleum blending segment accounts for significant share of the MTBE market. Demand for MTBE in Asia Pacific is primarily concentrated in China and ASEAN.
Asia Pacific Methyl Tertiary-Butyl Ether (MTBE) Market: Scope of the Study
The report provides in-depth analysis and forecast of the MTBE market in Asia Pacific. It comprises forecast for the period from 2016 to 2026 in terms of volume (kilo tons) and revenue (US$ Mn). In order to compile the research report, in-depth interviews and discussions with a number of key industry participants and opinion leaders have been conducted. Primary research represents a bulk of research efforts, supplemented by extensive secondary research. Key players' product literature, annual reports, press releases, and relevant documents have been reviewed for competitive analysis and market understanding. Secondary research includes a search of recent trade, technical writing, Internet sources, and statistical data from government websites, trade associations, and agencies. This has proved to be a reliable, effective, and successful approach for obtaining precise market data, capturing industry participants' insights, and recognizing business opportunities.
Secondary research sources that are typically referred to include, but are not limited to company websites, annual reports, financial reports, broker reports, investor presentations, SEC filings, Plastemart magazine, TPE magazine, internal and external proprietary databases, relevant patent and regulatory databases such as ICIS, Hoover's, oneSOURCE, Factiva, and Bloomberg; national government documents, statistical databases, trade journals, market reports, news articles, press releases, and webcasts specific to companies operating in the market.
Asia Pacific Methyl Tertiary-Butyl Ether (MTBE) Market: Research Methodology
We conduct primary interviews on an ongoing basis with industry participants and commentators to validate data and analysis. These help validate and strengthen secondary research findings. These also help develop the analysis team's expertise and market understanding.
Detailed analysis of various factors driving the MTBE market in Asia Pacific has been included for incisive decision-making. Impact of these drivers has been analyzed with the data to support research findings. Furthermore, factors restraining the market growth have been included for better understanding of the market. Impact of these restraints has been analyzed over the course of the forecast period. The report also comprises various opportunities available for market growth during the next 10 years. Opportunities entail untapped or recently explored factors that are anticipated to drive the MTBE market in Asia Pacific during the forecast period.
Porter's Five Forces Model has been utilized to determine the degree of competition in the MTBE market in Asia Pacific during the forecast period. Furthermore, market attractiveness analysis has been conducted to analyze application segments that are expected to be lucrative during the forecast period. This is based on various factors such as market size, growth rate, profitability, governmental regulations, and competition in the respective application segment. In order to gauge the demand-supply scenario, historical data from 2011–2015 has been incorporated in the report. Moreover, the present and past capacity additions (overall production capacity) and production utilization rate have also been discussed in the report.
Based on application, the MTBE market in Asia Pacific has been segmented into gasoline, isobutene, solvent & extractant, and others. The report comprises detailed analysis of all segments of the MTBE market in Asia Pacific and forecast based on current and future trends in the market, in terms of volume (kilo tons) and revenue (US$ Mn). Demand for MTBE in every application segment has been analyzed and forecast for the period of 10 years.
This report segments the MTBE market in Asia Pacific as follows:
MTBE Market – Application Analysis

Gasoline
Isobutene
Solvent & Extractant
Others (MMA, etc.)

MTBE Market – Country/Sub-region Analysis