Butene-1 Market
Butene-1 Market (Application - Polyethylene Comonomer, Polybutene-1, Valeraldehyde, and 1, 2-butylene Oxide) - Asia Pacific (China, India, and ASEAN) Industry Analysis, Size, Share, Growth, Trends, and Forecast 2016 - 2026
Category :

Chemicals & Materials

Format :
Asia Pacific Butene-1 Market: Overview
Asia Pacific butene-1 market is spread across all ASEAN countries. However, China represents itself as one of its key contributors in the market. The key reason behind this scenario is presence of key manufacturers and suppliers in the countries. There is lack of sufficient number of prominent manufacturers and suppliers for this chemical compound in other countries of Asia Pacific. China helps in fulfilling the butene-1 requirement of the rest of Asia Pacific countries owing to the county's greater production than requirement. Similarly, India holds key contribution in the revenue growth of Asia Pacific butene-1 market.
Asia Pacific butene-1 market shows promising growth avenues. It was valued at US$508.6 mn in 2015 and is projected to see stupendous growth to reach at the value of US$787.8 mn by 2026. Moreover, the market will grow at the CAGR of around 4.1% during the period of 2016–2026.
The study segments the Asia Pacific butene-1 market on the basis of applications.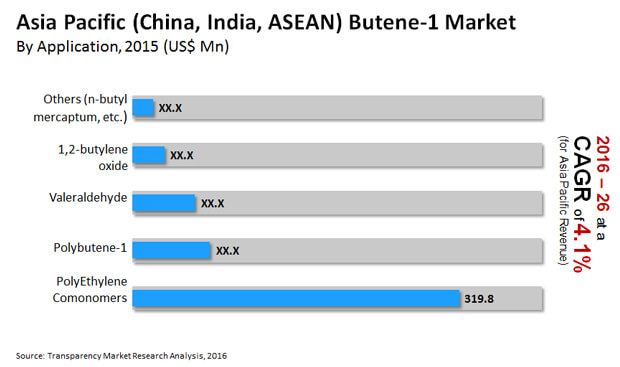 Polyethylene Co-Monomer Segment to Dominate in Market Revenue Generation
LLDPE (linear low density polyethylene) is used in production of a wide range of products. Some of the products created using LLDPE are plastic wrap, plastic bags, pouches, toys, stretch wrap, lids, covers, buckets, pipes, containers, cable covering, and geomembranes. In recent times, the region is witnessing rise in demand for LLDPE from manufactures of these products. This situation has led to represent polyethylene co-monomer as a leading revenue generator segment for the Asia Pacific butene-1 market in the upcoming period.
Another factor propelling the Asia Pacific butene-1 market growth is rising demand for HDPE (high density polyethylene). It is used in the production of numerous products such as plastic bottles, geomembranes, plastic lumber, and corrosion-resistant piping. Growing demand for these products signifies numerous avenues for the manufacturers in the butene-1 market from Asia Pacific.
Polybutylene-1 is used in manufacturing of a wide range of plastic packaging materials. Thus, rising demand from packaging industry is projected to prosper the Asia Pacific butene-1 market in the years to come. Besides, growing demand from consumer goods and automotive exteriors and interiors is helping the market to demonstrate sturdy growth. While the segment holds around 15% market share in Asia Pacific, it is projected to maintain the growth at similar pace during the forecast period.
China to Remain Key Contributor in Market Growth
Based on geographical aspect, the Asia Pacific butene-1 market is spread across countries such as India, China, and ASEAN countries. In 2015, China had around 64.7% share of this market. According to analysts, the country is expected to continue this trend and remain the leading regional player in the forecast period as well. Polyethylene is the main application segment of the Asia Pacific butene-1 market. Growing polyethylene industry in China signifies the increasing demand for the products from butene-1market in Asia Pacific. This increasing demand is projected to help China to be the prominent Asia Pacific butene-1 market region.
Development of numerous industries including consumer goods in China has pushed the demand for polybutylene-1 in the country. At the same time, upward demand graph for automotive exterior and interior products is projected to fuel the Asia Pacific butene-1 market during forecast period. With presence of key vendors and abundant supply of raw material, China has always surpassed the production of butene-1. Owing to this reason, China is major supplier of this product for other Asia Pacific countries. Increasing number of end-user industries and availability of raw materials are projected to fuel the demand for Butene-1 in the in ASEAN sub-regions.
Chemical Companies Improve Production Yield in Asia Pacific Butene-1 Market
The organic compound, 1-butene, is a chemical of vast industrial significance, as it is utilized in several intermediate processes. It is made by dimerization of ethylene. 1-Butene has been used widely in production of certain kinds of polyethylene. The growing demand for the compound in the petrochemical industries is a key trend for revenue growth in the 1-butene market. Over the years, the production processes, particularly in relation to valves used in production machinery, have made striking advances, expanding the potential for manufacturers to boost their yield. Valve manufacturers have been keen on making continuous advances in technologies and new installations have been made in various emerging economies around the world. Growing understanding of branched alkenes have been constantly broadening the horizon for manufacturers in the 1-butene market. Chemical companies have been able to produce 1-butene with varying chemical properties to subsequently use them for complex processes in the petrochemicals. Producers benefit from the adoption of equipment that need less maintenance and cleaning, or need them after quite prolonged duration. These have enabled to vary the operating temperature easier than before. Further, they have been benefited from the factor-cost advantages of developing economies, such as in Asia Pacific.
The COVID-19 pandemic that struck the world in 2019 is still emerging in some parts of the world, marks the second wave of infections for some regional populations. The pandemic has again brought uncertainty in demand and consumption in various industries. This followed a brief period of demand recovery in the later part of 2020 and early part of 2021. The pandemic has brought forth some new, disruptive models for stakeholders in the chemical industry to consider, especially in the Asia Pacific butane-1 market. A growing number of companies have revamped their operational and strategic management models to gain agility in the wake of emerging economic shocks due to recent outbreaks. On the other hand, some players might be forced to explore demand in new application areas to stay lucrative.
Asia Pacific Butene-1 Market: Overview
Butene-1 is a nontoxic, noncorrosive and colorless gas or liquid with slightly olefin odor. It is an organic chemical compound and is one of the linear alpha olefins. It is easily condensable and highly flammable. Butene-1 is generally produced by a variety of methods such as refinery operations, steam cracking of C4 hydrocarbons, butane dehydrogenation, alfa olefin manufacturing (produced as a co-product), catalytic ethylene dimerization, butyl alcohol dehydration, and pyrolysis of butyl acetate and butyl chloride. Butene-1 is generally used as an intermediate in several applications such as polyethylene, polybutene-1, valeraldehyde, and 1, 2-butylene oxide.
Asia Pacific Butene-1 Market: Scope of the Report
The report provides in-depth analysis and forecast of the Butene-1 market in Asia Pacific. It comprises forecast for the period from 2016 to 2026, in terms of volume (kilo tons) and revenue (US$ Mn). Quantitative data has been derived through extensive secondary research of the Butene-1 market in Asia Pacific. Secondary sources typically include company websites, relevant magazines, government documents, and press releases. Top-down approach has been adopted to derive the revenue and volume figures for the Butene-1 market in Asia Pacific. Furthermore, bottom-up approach has been employed to derive data for various application segments based on demand for Butene-1. A combination of top-down and bottom-up approaches helps validate the quantitative data. The data was further validated with the help of primary research, with industry experts, to ensure accuracy of derived numbers.
Detailed analysis of various factors driving the Butene-1 market in Asia Pacific has been included for astute decision-making. Impact of these drivers has been analyzed with the data to substantiate research findings. Furthermore, factors restraining the market growth have been included for better understanding of the market. Impact of these restraints has been analyzed over the course of the forecast period. The report also comprises various opportunities available for market growth during the next ten years. Opportunities entail untapped or recently explored factors that are anticipated to drive the Butene-1 market in Asia Pacific during the forecast period.
Asia Pacific Butene-1 Market: Research Methodology
The report includes value chain analysis to help understand the market thoroughly. Various processes employed in the manufacture of Butene-1 have been included in the report. Porter's Five Forces Model has been utilized to determine the degree of competition in the Butene-1 market in Asia Pacific during the forecast period. Key player capacities and operating capacities market has been included for better understanding of the competitive landscape. Furthermore, market attractiveness analysis has been conducted to analyze product segments that are expected to be lucrative during the forecast period. This is based on various factors such as market size, growth rate, profitability, raw material procurement, and competition in the respective product segment.
Asia Pacific Butene-1 Market: Segmentation
Based on application, the Butene-1 market in Asia Pacific has been segmented into polyethylene, polybutene-1, valeraldehyde, and 1, 2-butylene oxide. The report comprises detailed analysis of all segments of the Butene-1 market in Asia Pacific and forecast based on current and future trends in the market, in terms of volume (kilo tons) and revenue (US$ Mn). Demand for Butene-1 in every application segment has been analyzed and forecast for the period of ten years.
This report segments the Butene-1 market in Asia Pacific as follows:
Butene-1 Market – Application Analysis

Polyethylene Comonomer
Polybutene-1
Valeraldehyde
1, 2-butylene oxide
Others (such as n-butyl mercaptan)

Butene-1 Market – Regional Analysis
Custom Market Research Services
TMR offers custom market research services that help clients to get information on their business scenario required where syndicated solutions are not enough.
REQUEST CUSTOMIZATION

Asia Pacific Butene1 Market