Market Outlook
Arnica extract is derived from the dried flowerheads of the plant Arnica montana which is a flowering plant belonging to Asteraceae family. The plant is known for its bright yellow petals and daisy like appearance and widely popular plant in central and southern Europe and in some parts of North America. Arnica flower heads contains sesquiterpene lactones having anti-inflammatory and analgesic properties thus reducing pain and inflammation. Other compounds present in Arnica extract are flavonoids, essential oils, polyacetylene, polysaccharides and triterpenes. Arnica extract is a dark brown and clear liquid having a pungent odor. The Arnica extract is used as an herbal remedy in treating several sports and accidental injuries. Arnica has also been traditionally used in treatment of backache, bruising, cramps, muscular and rheumatic pain and sprains. Due to several health benefits demand for Arnica extract has been rapidly growing leading to overharvesting in certain areas of the world, hence the plant Arnica montana has been included in the Washington Convention of Endangered Species (CITES). The global market for Arnica extract is expected to be benefitted by growing consumers demand for natural ingredients across several industrial domains.
Reasons for Covering this Title
Changing perception of health and inclination towards natural plant based products have contributed towards escalated revenues in the global Arnica extract market. Arnica extract is widely used in cosmetics, medicinal and in food applications. In food and beverages industry arnica extract is mostly used as a flavoring agent in food product including, desserts, gelatins and certain beverages. In the U.S. the maximum use level of Arnica in food products is 0.03%. Also, growing demand for organic products has further strengthened the market revenue potential of the organic Arnica extract across the globe. Widespread application of Arnica extract in personal care industry including, skin care, hair care, lip care, cosmetics, aromatherapy is further expected to contribute towards the growing market for Arnica extract over the forecast period. Used as a traditional herbal remedy arnica extract also has tremendous application in medicine industry where the extract can be used as an analgetic, anti-arthritic, antibacterial, anticancer, anti-inflammatory, anti-mycotic and antiplatelet. All these factors together are expected to fuel the market growth of arnica extract over the forecast period. Growing number of cosmetic products manufacturers are incorporating natural ingredients in their products due to clean label trend which is pushing the demand for traditional herbs and thus their overall market revenue potential. Demand for clean label products is also quite visible in the food industry where consumers are seeking products with no artificial flavors, preservatives and colors.
Global Arnica Extract: Market Segmentation
On the basis of nature, the global Arnica extract market has been segmented as –
Organic Arnica Extract
Natural Arnica Extract
Conventional Arnica Extract
On the basis of form, the global Arnica extract market has been segmented as –
On the basis of application, the global Arnica Extract market has been segmented as –
Food and Beverages Products

Ice-cream and Desserts
Beverages
Other products

Cosmetic Products

Skin Care
Hair Care
Lip Care
Others

Aromatherapy
Medicine
Others
Exhibit 1
Key Drivers Arnica Extract and Likely Demand Intensity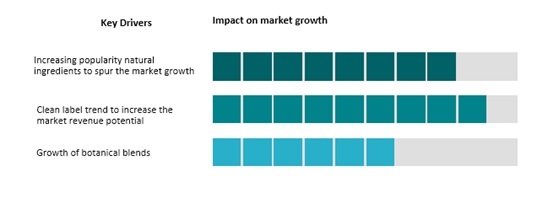 Global Arnica Extract Market: Key Players
Some of the key players operating in the global Arnica Extract market are Centerchem Inc ., Lonza Ltd, Inovia International, XI'AN IMAHERB BIOTECH CO., LTD, Ambe NS Agro Products Pvt. Ltd , Jiaherb, Inc., Carrubba INC., Shaanxi Geo Bio Co. ltd., Plantae Extracts Pvt. Ltd., The Plant Extracts Company Pty Ltd, among others.
Key Developments
In January 2018, Marijuana Company Of America Inc., which is an innovative hemp and cannabis corporation, through its subsidiary Hempsmart Inc. launched hempSMART Pain Cream which is a blend of full spectrum hemp extracts and botanical extract such as rosemary oil, aloe extract, tea tree oil, arnica extract and others.
In November 2017, Jessica Laura Organics Ltd launched its new SUPERFOOD SKINCARE product Goji Goddess Brightening Eye Serum, which is a blend if organically certified Goji berry infused extract and certified organic arnica infused extract which helps in dark circles reduction.
Opportunities for Market Participants
Growing number of health conscious consumers has pushed number of manufacturers to enter into curated line of wellness products which can be incorporated into daily health routine of an individual. This has contributed towards the growing market revenue potential in the global Arnica extract market globally. Furthermore, increasing number of product launches with blends of various herbal extracts has further increased the indulgence thus, the demand for herbal based products. Cosmetic and several medicinal formulations with arnica extract have been widely gone popular among consumers in North America and Europe thus, contributing towards escalated market revenues of arnica extract over the forecast period.
Brief Approach to Research
A modelling-based approach and triangulation methodology will be followed to estimate data covered in this report. A detailed market understanding and assessment of the nature, product type and end uses of the product segments covered in the study is followed by carrying out a demand-side approach to estimate the sales of target product segments, which is then cross-referenced with a supply-side assessment of value generated over a pre-defined period. The statistics and data is collected at a regional level, consolidated and synthesized at a global level to estimate the overall market sizes.
Key Data Points Covered in the Report
Some of the key data points covered in our report include:
An overview of the Arnica Extract market, including background and evolution
Macroeconomic factors affecting the Arnica Extract market and its potential
Market dynamics, such as drivers, challenges and trends
Detailed value chain analysis of the Arnica Extract market
Cost structure of the products and segments covered in the global Arnica Extract market
In-depth pricing analysis, by key product segments, regions and by major Arnica Extract market participants
Analysis of supply and demand, such as top producing and consuming geographies, imports/exports and overall trade scenario in the global Arnica Extract market
Analysis of the global Arnica Extract market structure, including a tier-wise categorization of key Arnica Extract market participants
Competitive landscape of the market, including detailed profiles of the top players in the Arnica Extract market
Note: Although care has been taken to maintain the highest levels of accuracy in TMR's reports, recent market/vendor-specific changes may take time to reflect in the analysis.