Arcylamide Market
Arcylamide Market (Applications-Waste and Wastewater Treatment, Petroleum, Pulp & Paper, Mining, Coating, Printing & Dyeing, Others; Physical Form-Solution, Solid Crystalline; Process Catalyst-Microbial catalyst, Copper catalyst)-Global Industry Analysis, Size, Share, Growth, Trends and Forecast 2017 - 2022
Category :

Chemicals & Materials

Format :
Rising awareness regarding use of potable and clean water through efficient water-treatment is primarily driving the demand for acrylamide. This is mainly due to the fact that acrylamide is a key substance that has immense potential to clean wastewater and sewage water. Moreover, with favorable initiatives taken by governments all across the globe to intensify the use of arcylamides, the relevant market is foretold to expand at a rapid pace. With rising demand for oil and natural gas derivatives in the form of fuel, the global arcylamide market is foretold to witness rampant growth in the near future. Factors such as changing lifestyle and increasing popularity of convenience food are projected to favorably boost growth in the global acrylamide market during the forecast period.
As per expert analysts, the global arcylamide market is foretold to register revenue valuation of 4,776.8 mn by 2022. This growth is prophesized to occur at a splendid CAGR of 11.7% during the forecast period from 2017 to 2022.
The global arcylamide market is divided into various segments on the basis of few criteria such as physical form, process catalyst, and applications. Under physical form, solution and solid crystalline are two prime segments. From the perspective of process catalyst, copper catalyst and microbial catalyst comprise two chief sectors present in the global arcylamide market. And under applications, waste and wastewater treatment, petroleum, pulp & paper, mining, coating, printing & dyeing, and others, are key segments present in the global arcylamide market.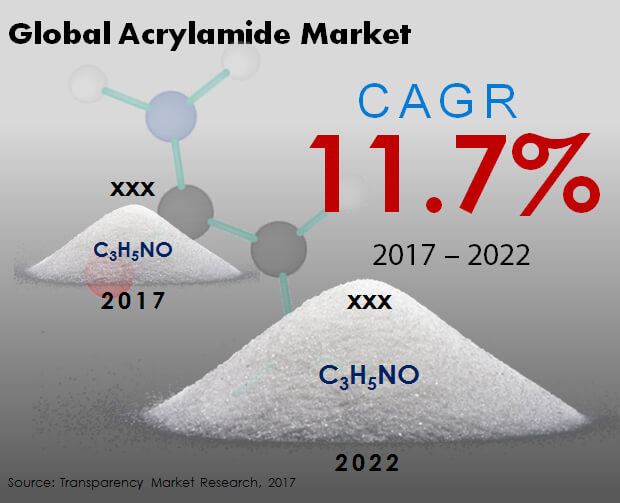 Waste and Wastewater Treatment to Continue Existing As a Winning Segment
On the basis of application, the waste and wastewater treatment segment is expected to remain dominant throughout the forecast period from 2017 to 2022. This segment currently comprises more than one-third of the total revenue shares in the global acrylamide market. Towards the end of forecast period, this segment is estimated to cross a market valuation of about US$1,600 mn, consequently growing at a fantastic CAGR of 10.8%.
Solution Based Acrylamides Predicted to Clock Spectacular Revenue from 2017 to 2022
Under physical form, the solution segment is foretold to outperform its rival segment during the entire forecast period. In recent times, the solution segment comprises more than two-thirds of the total market shares in terms of revenue gained. This sector is surely expected to grow with a significant CAGR and continue in this position for a long time.
Best Process Catalyst Segment Title Goes to Microbial Catalyst Instead of Copper
Under process catalyst, the microbial catalyst segment is expected to attract a valuation of US$3,600 mn by the end of 2022 in the global acrylamide market. In addition, the segment is projected to expand at a substantial CAGR of 11.6% during the forecast period.
Increasing Urbanization in Asia Pacific Makes Market Grow Extensively In Asia Pacific
Geography-wise, the global arcylamide market is spread across North America, Europe, Asia Pacific, Latin America, and the Middle East & Africa. Of these, a rapidly growing population coupled with changing lifestyles and increasing disposable income in Asia Pacific has made this region gain extensive growth. Apart from Asia Pacific, rapid urbanization in Europe and North America too has made these regions hold significant positions with respect to the revenue generated in this market.
Ashland, Anhui Jucheng Fine Chemicals Co. Ltd., BASF SE, SNF Group, Beijing Henjiu Chemical Group Corporation, Dia-Nitrix Co., Ltd., Kemira Oyj, Jiangxi Changjiu Agrochemical Co., Ltd, Mitsui Chemicals, Inc., and Ecolab Inc., are key players operating in the global acrylamide market.
Research in Chemistries to Improve Safety Profile of Products in Arcylamide Market
Acrylamide is a colorless, odorless, and crystalline amide. It is used in making polyacrylamide which finds popular use in water treatment plants and range of industrial processes. Particularly, the sales in the acrylamide market are propelled by the demand among businesses in pulp & paper industry and textile treatment. Over the years, the safety of acrylamide for human exposure or consumption has come under the scanner. Per the International Agency for Research on Cancer (IARC), it has been labelled as probably carcinogenic to humans. The concerns have changed the course of the market. The prevalence of acrylamide is high in starch-enriched food. For example, they are found in coffee, bakery products, and chips. Growing calorie-conscious population has led to decline in demand for starch-rich products in the past few years. Food companies rely on advanced techniques to assess the risk by making reliable analysis of the compound in complex food matrices. A case in point is gas chromatography–time-of-flight mass spectrometry. More human studies on assessing the safety of the amide in food products are expected to guide policy frameworks and also enable industry experts to assess the demand dynamics in the foreseeable future.
The COVID-19 pandemic led to long-term changes in macroeconomic fundamentals in chemicals and materials industry. Production-related decisions have been witnessing some unprecedented changes on the back of changing consumer demand and aspirations in the end-use industries. Most prominently, two concerns are expected to play out in shaping the future growth dynamics of the arcylamide market. Rise in consumer acceptance of products that are viewed as sustainable and products that can address immediate consumer demands have been key trends. The dynamics are inspired by industry initiatives and long-term planning approaches to avoid COVID-19 like downturns. The immediate demands arose due to the emerging new macroeconomic scenario in various countries.
Transparency Market Research (TMR) has complied yet another fully comprehensive, objective and insightful research report on the global market for acrylamide. The report provides a descriptive analysis on the acrylamide market on a global level. For this, insightful data has was gathered by dissecting various market elements, which enabled the group of analysts working on the report make accurate and relevant projections pertaining to the global acrylamide market. Further, the report delivers an overview of the global market for acrylamide and offers historical, present and future assessments. The future prospect of the market in also discussed in the report thoroughly in order to provide readers with credible forecast data.
Report Synopsis
The report commences with an executive summary that comprise of an overall picture of the acrylamide market to offer key information concerning to regional performance, physical form, applications and process catalyst segmentation analysis within the scope of report. This section of the report offers highly significant figures pertaining to the market. The performance of the global acrylamide market has been evaluated by assessing its expansion rate and year-over-year growth of revenue. In the next part, a generic definition of acrylamide has been provided along with an introductory para. In the subsequent section, the reader will gain excess to data regarding the market dynamics of acrylamide, which encompasses key subjects such as fiscal stimulus, global economy and bottom line of enterprises. Also, information on cost structure and pricing analysis can be obtained from the report.
Competition Landscape
The part of the section in the report comprise of competitive landscape that covers information on the companies that are functioning in the market. The section is of extreme importance to the readers as they will gain insights on key strategies utilized by market players. This will allow to make informative decisions and stay ahead. The report also offers SWOT analysis on leading market participants along with other vital data such as company overview, key developments, key financials, and product overview. The market performance and regional presence of leading companies has been explained through an intensity map.
Research Methodology
TMR has utilized an innovative and tested research methodology for obtaining revenue estimated related to the global acrylamide market. In addition, an extensive and in-depth secondary research has been conducted for estimating overall market size and identifying leading market participants. Also, the data in the report has been sourced from valuable inputs from industry expert and company executive through exhaustive primary interviews. Such research methodologies provisioned rendered the process of market analysis and forecast. Information collected through secondary and primary research are authenticated carefully and verified using the cutting-edge tools for arriving at a concrete result on the global acrylamide market for the forecast period (2017-2022).
Market Taxonomy
One of the section of report talks about the key segments of the global acrylamide market. Basically, the market has been into application, physical form, process catalyst and region. The performances of these segments were assessed by drawing comparison based on revenue, market share and year-on-year growth rate. Key regional markets that were analyzed in report include North America, Latin America, Japan, Asia-Pacific excluding Japan (APEJ), Europe, and the Middle East and Africa (MEA).
Applications

Waste and Wastewater Treatment
Petroleum
Pulp & Paper
Mining
Coating
Printing & Dyeing
Others

Physical Form

Solution
Solid Crystalline

Process Catalyst

Microbial catalyst
Copper catalyst
Custom Market Research Services
TMR offers custom market research services that help clients to get information on their business scenario required where syndicated solutions are not enough.
REQUEST CUSTOMIZATION