Antimony Market
Antimony Market (End Use - Flame Retardants, Lead Acid Batteries, Heat Stabilizers and Plastics, and Pigments): Global Industry Analysis, Size, Share, Growth, Trends and Forecast 2017 - 2022
Category :

Chemicals & Materials

Format :
Antimony, a chemical element, generally exists in non-metallic and metallic forms. The metallic form is made of brittle material and is bright silver. The non-metallic form is grey powder. Static to alkalis and acids, antimony is considered to be a stable element when placed in dry air. Antimony has been witnessed to be bad conductor of heat and electricity, and it swells on cooling. Owing to its high reactivity with chemicals such as copper, silver, lead and sulfur, elemental antimony is present in small proportion.
Surging Demand for Electric Vehicles to Drive Adoption of Antimony
Demand for electric vehicles has surged tremendously over the recent past, owing to increasing environmental concerns and focus on reducing fuel consumption. Lead acid batteries form an integral part of electric vehicles, and antimony is widely used in these batteries. Demand for antimony is also being driven by its use in flame retardant products, and PET production. Over the past few years, there has been an increasing emphasis on development and evaluation of new antimony projects across developed economies. Manufacturers in Europe and North America are making huge investments in procuring and refurbishing old shut down antimony mines.
Antimony is utilized extensively with lead, particularly to increase lead's strength level in application such as ammunitions. Antimony trioxide is commonly used for various commercial applications including production of glass, textile, rubber, and plastic. However, exposure to antimony results into serious health hazards including skin irritation, lung cancer and breathing disorders. A number of environmental hazards have also been associated with antimony, which in turn has led towards numerous regulations on its adoption.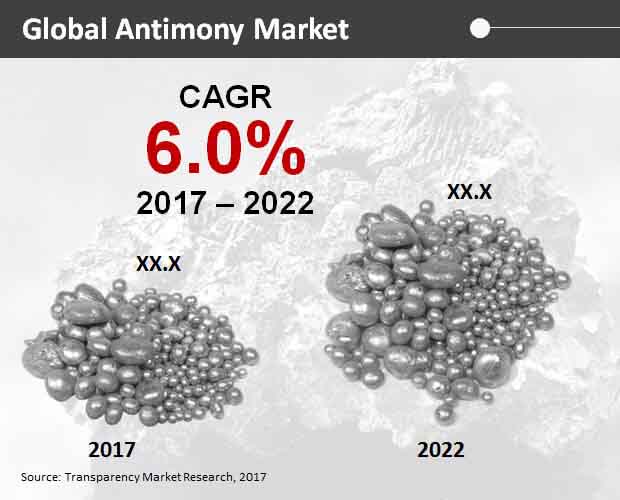 According to a recently delivered report by Transparency Market Research (TMR), the global market for antimony is projected to exhibit an impressive CAGR throughout the forecast period (2017-2022). Global sales of antimony is estimated to surpass US$ 2,000 Mn by 2022-end.
Flame Retardants and Lead Acid Batteries among End Uses to Retain their Dominance in Global Antimony Market
On the basis of end use, flame retardants and lead-acid batteries are anticipated to retain their dominance in the market over 2017 to 2022, in terms of revenues. However, sales of antimony for end use in lead acid batteries will register a comparatively higher CAGR than in flame retardants through 2022. Revenues from end use of antimony in flame retardants are projected to account for over half share of the market in 2017. Demand for antimony in flame retardants will discern a significant decline during the forecast period. Heat stabilizers & plastics, and pigments are expected to remain the least lucrative end uses of antimony, collectively estimated to account for nearly US$ 270 Mn revenues by 2022-end.
APEJ to Dominate Global Antimony Market during 2017 to 2022
Asia-Pacific excluding Japan (APEJ) will dominate the global market for antimony in 2017, and will further retain its dominance in the market until 2022-end. Sales of antimony in APEJ will hold over half revenue share of the global market in 2017. Demand for antimony in this region will witness an upsurge throughout the forecast period. North America and Europe will also remain lucrative markets for antimony. Sales of antimony in North America will register a comparatively faster expansion than in Europe through 2022. Middle East and Africa (MEA) and Japan will remain relatively less lucrative regions for growth of the antimony market.
Company Profiles
TMR's report has identified key participants actively contributing to expansion of the global antimony market, which include United States Antimony Corp., Atomized Products Group Inc., Nihon Seiko Co., Ltd., Tri-Star Resources plc, American Elements, Mandalay Resources Corp., AMG Advanced Metallurgical Group NV, Hsikwangshan Twinkling Star Antimony Industry Co. Ltd., Belmont Metals Inc., and Shenyang Huachang Antimony Chemical Co. Ltd.
Players in Antimony Market Aim at Improving Toxicity Profile to Spur Demand
Antimony, a semimetallic chemical element, obtained majorly from the ores stibnite (Sb2S3) and valentinite (Sb2O3), also occurs in nature but in traces. Thus, the element exhibits properties of both metals and non-metals. Since ages, the traditional use has been in making beauty products, and healing formulations. In contemporary and modern times, advances in techniques in extracting and purifying have led to the production of the element is sufficient purity. A key driver for the antimony market stems from this. Thus, the utilization of antimony in manufacturing range of semiconductor devices such as diodes and infrared detectors has propelled the opportunity in the market. Alloys of this with the lead also finds some commercial demand. Expanding applications of antimony notably in medical sciences are propelling revenue prospects of the antimony market. A growing body of recent studies have established that antimony belong to the group of leishmanials. Over the past few years, the safety profile of antimony has come under immense scanner, the reason having to do with the interaction of the antimony compounds with amino acids, nucleotides, peptides, enzymes, and proteins. Thus, efforts are ongoing to develop guidelines that reduce the exposure of antibody to prevent serious health impacts on humans. Also, high exposure may also pollute environment with devastating consequences, to plants, domesticated animals, and water bodies.
The COVID-19 outbreaks in 2020 in several countries caused severe repercussions of people's earning and economic activities in general. In many countries, the pandemic-led lockdowns to stop the surge in caseloads led to vast disruptions in the availability of labor. These led to some of the worst decline in production levels especially of nonessential consumer products. This also altered the course of the growth of the antimony market in large part of 2020. Come 2021, there was a gradual rise in demand in end-use industries, thereby boosting the revenue potential for players in the market.
A recent research report offered by Transparency Market Research (TMR) delivers a detailed analysis on the global antimony market for the forecast period, 2017 and 2022. This report has evaluated all important factors fuelling the prominent segments. The report also peeks closer at the recent advancements in processing & manufacturing technologies for antimony across various regions. By taking a scrutinized analysis on sizing of the market based on various segments during the historical period (2012-2016), this report has been developed by using analytical tools for arriving at pertinent future prospects of the global antimony market for the assessment period.
Major developments made by predominant industries, along with their influence on the product's demand have been tracked by the report. The report has also offered an exhaustive overview of the supply chain, raw material sourcing strategy, and has also highlighted prevalent pricing strategies as well as the cost structure. This report's research findings will enable its readers in making impactful strategies for growth of their businesses.
Report Structure
The first chapter of the report offers an exhaustive précis of the global antimony market, and highlights the in-depth insights delivered on key regional segments and end-use segments of the global antimony market. The report also renders a comprehensive overview of the global market for antimony, which includes detailed market introduction, and formal definition of – antimony. The market size estimations given in this report have been interpreted by using metrics such as year-on-year growth rates, absolute dollar opportunities, compound annual growth rates and basis point share indexes.
The report involves analysis on the market dynamics, technology roadmap, and distribution network, along with an intensity map tracing the market players' existence across various regions. Insightful analysis on the antimony market's competitive backdrop has also been delivered in the report. Key market participants identified by the report have been analyzed on the basis of their key developments, present market conditions, and strategic partnerships.
Competitive Landscape
The report includes an imperative chapter on the global antimony market's competitive scenario, where a detailed analysis on key market participants has been offered. The insights provided on these market participants are portrayed in terms of company overview, product overview, key financials, and key developments. An in-depth SWOT analysis of these players has also been provided by the report, where strengths, weaknesses, opportunities, and threats are examined for their expansion in the market. Study has also been offered on new strategies implemented by the market participants for increasing their product portfolios, marketing strategies, strategic alliances, and M&A as expansion strategies.
Research Methodology
Analysts from Transparency Market Research have used a research methodology that is robust. This research methodology is aggregation of extensive primary interviews conducted with key stakeholders & industry experts, and an in-depth secondary research to gain necessary information & data associated with the market. The chemical industry partakers manufacturing antimony have been contacted and interviewed to acquire information about their overall spending, revenue procurements and profitability index for the past half decade. Numerous validation tools are adopted for aggregated data to attain relevant market insights, which highly impact critical business decisions. These research findings and key insights have been represented in the report in a systematic manner.
Market Taxonomy
A segmentation-wise study has been encompassed by the report for delivering insights on key major segments of the global antimony market. Global market for antimony has been segmented based on end uses, and region. Taxonomy of the global antimony market is elaborately illustrated through a taxonomy table.
Region

North America
Latin America
Europe
Japan
Asia-Pacific excluding Japan (APEJ)
Middle East and Africa (MEA)

End Use

Flame Retardants
Lead-acid Batteries
Heat Stabilizers and Plastics
Pigments
Custom Market Research Services
TMR offers custom market research services that help clients to get information on their business scenario required where syndicated solutions are not enough.
REQUEST CUSTOMIZATION