The vast shortage of data analysts capable of analyzing big data and the rising popularity of data analytics for uncovering unknown data correlations, hidden consumption patterns, market trends, and consumer preferences have strengthened the position of Hadoop in business circles in the past few years, points TMR. Hadoop is now considered an excellent substitute to human resources for effective data analysis and continues to expand its array of end-use industries.
The rising penetration of the Internet globally, rising rate of digitization across industrial infrastructures, constantly expanding base of social media followers, and the mounting numbers of people using mobile devices have also intensified the need for excellent data management and analysis tools in the global market. Hadoop, with its capability of processing unstructured data in a cost effectiveness and a rapid manner, has favored its adoption over conventional methods of data processing using RDBMS solutions in the past few years.
Owing to these factors, the global Hadoop market will witness growth at an exponential pace over the next few years, states TMR. The market is expected to expand at a 26.3% CAGR from 2015 to 2023 and rise to a valuation of US$2,429.0 mn by 2023.
BFSI to Emerge as Key Contributor to Growth
Of the key applications of Hadoop solutions across a number of industries, the global Hadoop market earned its major share in market valuation from the IT and ITES sector in 2014. The market in this sector accounted for a share of 18.58% in the global Hadoop market and is expected to expand at an impressive 28.9% CAGR over the period between 2015 and 2023. The rising adoption of Hadoop solutions in outsourced services has been the primary driver of Hadoop market in the IT and ITES sectors in the past few years.
The sector will continue to account for a reasonable share in the global Hadoop market in the future as well, but it will be outpaced by the demand for Hadoop in the BFSI segment, which will rise at a CAGR of nearly 29% from 2015 to 2023. The rising digitization of the banking, financial services and insurance sector across the world has not only increased the volumes of critical consumer-related data but has also made it vulnerable to frauds and thefts. Effectiveness of Hadoop solutions in effectively managing, analyzing, and detection frauds in critical data will lead to their increased adoption in the GFSI sector in the next few years.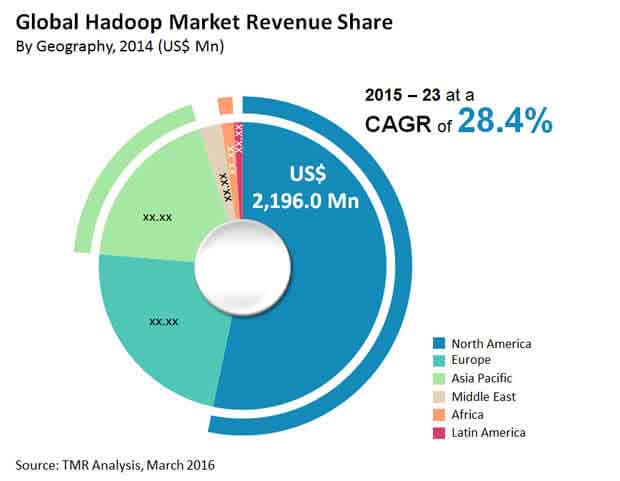 Asia Pacific to Lead Global Hadoop Market
North America is a mature market for Hadoop and is presently the largest contributor to the overall growth of the global Hadoop market. The high rate of receptiveness for Hadoop in the region can be attributed to the digitally and technologically advanced infrastructures across industries such as BFSI, manufacturing, and retail. The region accounted for a dominant share of 53.3% in the global Hadoop market in 2014.
However, Europe and Asia Pacific are expected to lead to the most profitable returns for Hadoop solutions in the next few years. Rising consumer base on social media networks, rising digitization of industrial infrastructures, and an increased number of mobile users in Asia Pacific are leading to the increased need for Hadoop tools for managing the mounting volumes of digital data. In Europe, demand for Hadoop has increased across sectors such as retail, manufacturing, BFSI, and government. The Asia Pacific market is expected to emerge as the leading regional market for Hadoop, expanding at the fastest CAGR of 30.2 % from 2015 to 2023.
The competitive landscape of the global Hadoop market is moderately consolidated, with the top three companies, Cloudera, Inc., Hortonworks, Inc., and MapR Technologies, Inc., accounting for a cumulative share of nearly 50% in 2014. Other major companies in the market are IBM Corporation and EMC Corporation.
Hadoop is a Java-based open source programming framework sponsored by Apache Software Foundation, which enables the processing of large data sets in a distributed computing environment. Hadoop has two main subprojects, namely – MapReduce and Hadoop Distributed File System (HDFS). MapReduce is a framework that assigns work to the clusters in a node, whereas HDFS is a file system used for data storage in a Hadoop cluster. Since its inception in 2009, the global market for Hadoop is growing at a healthy rate as it has emerged as one of the best tools to manage big data. Growing unstructured as well as structured data volume across different end use sectors such as retail, BFSI, healthcare, media and entertainment, and telecommunication among others is augmenting the demand for Hadoop solutions.
As a result of technological advancement, huge volumes of data are being generated by different electronic devices used in various end use segments such as Banking, Financial services and Insurance (BFSI), retail, telecommunication, healthcare, and government and public utilities among others. The data generated in the above mentioned end use segments include office productivity documents, e-mail, and web content along with social media data. Most of this data generated is unstructured and thus organizations are looking for a tool that could handle this unstructured data appropriately. Increased corporate spending to manage unstructured data has boosted the adaptation of Hadoop. Furthermore, Hadoop is cost effective and has low maintenance charges compared to other data frameworks such as relational database management system (RDBMS). In addition, Hadoop has the ability to run on commodity hardware and the time taken to process the data is less. Asia Pacific has the largest number of internet users followed by Europe. In the near future, cell phones with high end internet connectivity are likely to gain more popularity and a healthy percentage of cell phone users are expected to use it for both commercial and personal purposes. Moreover, billions of people conduct different types of online transactions daily contributing to the generation of huge volume of data.
In terms of types, the market has been categorized into software, hardware and services. The software segment has been further sub divided into application software and performance monitoring software. The hardware segment has been sub divided into storage and server. The storage segment concentrates three types of storage, 1 to 1000 terabytes, 1 petabyte to 10 petabytes and above 10 petabytes. The services segment has been further divided into consulting, training and outsourcing, integration and deployment and middleware and support services. In addition, the Hadoop market has also been categorized by end use industries into banking, financial services and insurance (BFSI), retail, manufacturing, telecommunication, healthcare and life sciences, media entertainment, natural resources, trade and transport, government and IT and ITES among others. Furthermore, the Hadoop Market has been segmented geographically in to North America, Europe, Asia Pacific and rest of the world sub regions. The scope of the report offers an insight into Hadoop market in these regions based on revenue (USD million).
For a better understanding of the Hadoop market, the key findings have been provided which discusses the various factors affecting the market globally. Furthermore, the market dynamics have also been provided which include the drivers, restraints and opportunities related to the Hadoop market. Furthermore, a porter's five forces analysis has also been conducted to understand the external environment of the market. In addition, the key players in the market have been profiled on the basis of key developments, product segments, business strategies and financial overview. The leading players in Hadoop market include Cloudera, Inc, Hortonworks Inc, IBM, Pentaho, MapR Technologies, Inc., EMC Corporation, Cisco Systems, Karmasphere Inc., Teradata Corporation and Zettaset, Inc.
The global Hadoop market can be segmented as follows;-
Global Hadoop Market, By Type
Software
Hardware
Services
Global Hadoop Market, By End use Industry
Banking, Financial services and Insurance (BFSI)
Retail
Manufacturing
Telecommunication
Media Entertainment
Natural Resources
Trade and Transport
Government
IT and ITES
Others
Global Hadoop Market, By Geography
North America
Europe

U.K.
Germany
France
Italy
Rest of Europe

Asia-Pacific

China
India
Japan
Singapore
Australia
Hong Kong
Rest of Asia Pacific

Rest of the World (RoW)

Middle East
Africa
South America