5G IIOT Market: Introduction
5G is the fifth-generation wireless technology that brings three things to the table: Lower latency (Responsiveness), Wider channel (Speed), and more bandwidth (connect to IIOT devices). After the incredible achievement of 2G and 3G mobile networks and the rapid growth of 4G, innovative mobile networks (5G) are planned to target and deliver infinite networking proficiency to mobile users. It aims to include and benefit from numerous existing technical advances including 5G IIOT (Industrial Internet of Things).
The 5G IIoT merges several heterogeneous networks, such as wireless local area networks, sensor networks, mobile networks (3G/4G/LTE/5G), wearable healthcare systems, and wireless mesh networks. It is vital to design smart protocols and self-organizing for heterogeneous adhoc networks in numerous IoT applications, such as cloud computing, cyber-physical systems, data acquisition, large-scale sensor networks, from allocated smart devices, environmental monitoring, and control, green communication and applications.
The 5G IIOT handles a variety of traffic, including massive machine communication, enhanced mobile broadband, high-reliability application, and low-latency to generate and analyze the 5G new radio (NR) waveform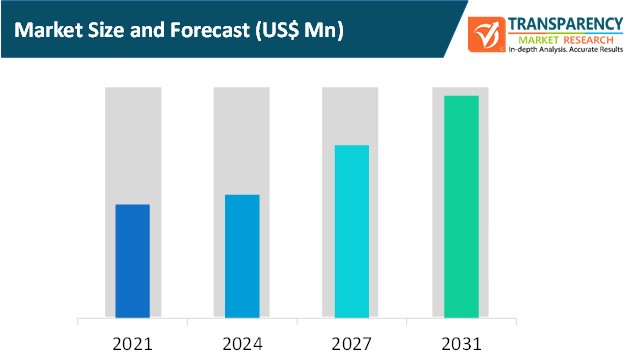 5G IIOT Market: Dynamics
5G IIOT Market: Key Drivers
Demand for low latency and high-reliability networks is increasing in manufacturing industries. Delays in communication networks in computers refer to the time a data packet takes to travel. Low latency leads to a huge data transmission rate. Delays in communication over a network of 5G are almost 50 times lower than the existing 4G network. The 5G technology is estimated to offer a latency of 1 millisecond, while in 4G, the latency rate is 50 milliseconds.
Demand for 5G IIOT in manufacturing industries is significantly high. A 5G private network delivers numerous advantages in terms of security and efficiency; numerous manufacturing organizations and former end-users are expecting to deploy these networks. Private 5G networks can become the upcoming communication platform of the industry, as they would be able to deliver improved bandwidth for an improved number of associated equipment and the equivalent data being transferred at the factory floor.
As compared to 4G, 5G requires eight to ten times more base stations to upgrade the hardware infrastructure by MNO (Mobile network operators). There is a logic of insecurity among MNOs related to the implementation of 5G. Hence, huge capital investment is essential to set up the infrastructure, which may hinder the 5G IIOT market.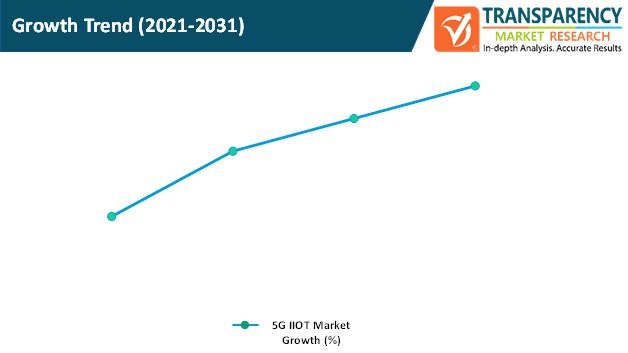 Impact of COVID-19 on 5G IIOT Market
Increase in cases of COVID-19 across the globe is resulting in economic slowdown. Developed countries are strongly affected by the pandemic. COVID-19 has had a negative impact on the 5G IIOT market, as companies are decreasing their investment in new technologies and services to sustain in the competition. During COVID-19, the telecom sector played an important role across the globe to support the digital infrastructure of countries. The market is expected to expand in the next few years, as companies start making profit to recover from the economic downturn associated with COVID-19.
APAC to Hold Major Share of 5G IIOT Market
The 5G IIOT market in Asia Pacific is anticipated to expand at a rapid pace during the forecast period. The economy of the region is expanding and witnessing various changes in the implementation of new technologies. The market in the region is projected to expand at a notable CAGR during the forecast period. Telecom vendors and service providers in APAC and government firms are focused on research and development on 5G. The APAC region is witnessing vigorous changes in the implementation of new technologies and developments in manufacturing industries.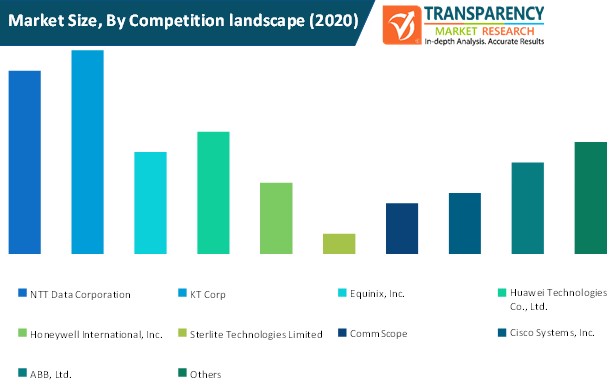 Key Players Operating in Global 5G IIOT Market
Honeywell International, Inc.
Honeywell International, Inc. is an automation and manufacturing company that offers solutions in security, safety, and energy. The company uses its technology to improve the efficiency of products and processes. It has expertise in workplace, and emergency management solutions. The company also offers security and control technologies for industrial, defense, and residential end-users. Honeywell International, Inc. has a strong presence globally in order to cater to each market-specific need.
ABB, Ltd. is a global supplier of automation products and electrical equipment. The company operates in various business segments such as industrial automation, drives and motors, electrification, smart machines, and robotics. The company caters to chemical, power utilities, oil & gas, and industrial process industries. ABB Ltd. also offers repairs, outsourcing services, and various consulting services. The company is focused on accelerating the industrial ecosystem for flexible wireless automation and enhance artificial intelligence technology and Industrial IoT in the future.
Other key players operating in the global 5G IIOT market include Qualcomm Technologies, Inc., Ltd., NEC Corporation, Huawei Technologies Co., Ltd., STL - Sterlite Technologies Limited, Nokia, Telefonaktiebolaget LM Ericsso, Cisco Systems, Inc., CommScope, Hitachi, Ltd., Airspan Networks, Inc., Equinix, Inc., Qorvo, K T corp., and NTT DATA Corporation
5G IIOT Market: Research Scope
5G IIOT Market, by Component
Hardware
Solutions
Services
5G IIOT Market, by Organization Size
5G IIOT Market, by Application
Real-Time Workforce Tracking and Management
Automation Control and Management
Logistics and Supply Chain Management
Business Process Optimization
Predictive Maintenance
Emergency and Incident Management and Business Communication
5G IIOT Market, by End-user
Discrete Industries
Process Industries
5G IIOT Market, by Region
North America

U.S.
Canada
Rest of North America

Europe

Germany
France
U.K.
Italy
Rest of Europe

Asia Pacific

China
Japan
India
South Korea
Rest of Asia Pacific

Middle East & Africa

GCC
South Africa
Rest of Middle East & Africa

South America

Brazil
Rest of South America
Interested in this report?
Get a FREE Brochure now!