5G Equipment Market: Introduction
5G, also known as fifth-generation wireless technology, brings three new things together: lower latency (Responsiveness), wider channel (Speed), and bandwidth (Ability to attach a lot more device at once)
5G technology is delivering life-changing technology through next-generation networks. The 5G is intended to deliver high multi-Gbps peak data speed, large network capacity, ultra-low latency, improved accessibility, and a new identical user experience to additional users. Developed productivity and higher performance empower new user experience and connect new industries.
5G equipment utilizes multiple-input multiple-output (MIMO) antennas that have considerably huge numbers of antenna connections or elements to send and receive extra data simultaneously. The advantage to users is that several people can simultaneously link to the network and maintain high throughput. The 5G user equipment comprises devices and mobile phones that use MIMO antenna technology assembled into the device for the mm Wave frequencies.
5G equipment handles a variety of traffic types, including massive machine communication, enhanced mobile broadband, high-reliability application and low-latency to generate and analyze 5G new radio (NR) waveform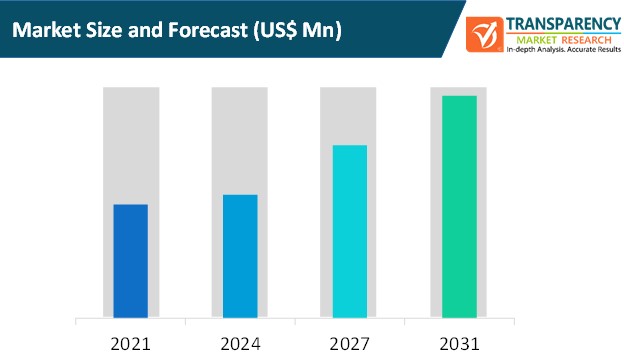 5G Equipment Market: Dynamics
5G Equipment Market: Key Drivers
In the 5G equipment market, the spectrum is estimated to be a key concern in choosing equipment and carrier. Network slicing takes a page from the virtualization leaning that has determined more density, capacity, and proficiency in data hubs by using 5G network slicing to share additional idle resources and escalate complete usage. The network slicing, 5G carriers are expected to have enhanced deployment of their networks, controlling more users and transmitting more data instantaneously.
5G equipment is required at both ends of the connection to use the full suite 5G capabilities. On the carrier side, 5G antennas and infrastructure are needed, and on the client-side, 5G IoT device or 5G handset for mobile communication is needed.
In the 5G equipment market, proximity is the additional weakness that companies must deliberate. In 5G millimeter wavelengths is used, which are lesser than 3G and 4G, and they do not travel a long distance. While the 5G exposure profile is smaller, the 5G signal can transmit more data. Carriers are planning a much superior array of antennas to deliver enough coverage in order to overcome this limitation.
The high initial cost to implement and integrate 5G equipment is expected to hamper the market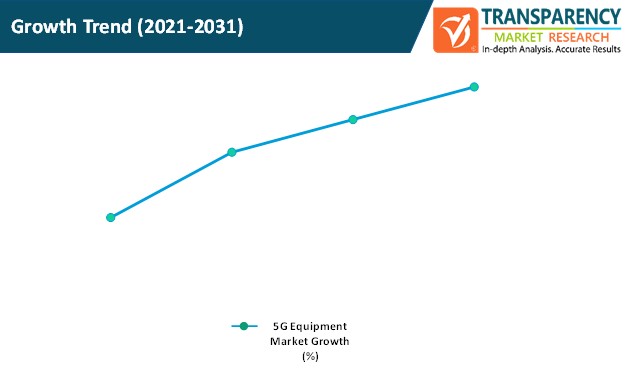 Impact of COVID-19 on the 5G Equipment Market
Increasing cases of COVID-19 across the globe is resulting in economic slowdown. Developed countries are strongly affected by the pandemic. COVID-19 has a negative impact on the 5G equipment market. The telecom sector is playing an important role across the globe to support the digital infrastructure of countries because companies are decreasing their investment in new technologies and services to manage their profitability during COVID-19. In terms of revenue, the market is expected to expand in the next few years, as companies increase revenue earning to recover from the economic downturn associated with COVID-19.
North America to Hold Major Share of 5G Equipment Market
In terms of region, the global 5G equipment market can be divided into North America, Europe, Asia Pacific, Middle East & Africa, and South America
North America hold a major share of the global 5G equipment market primarily due to the presence of developed countries such as the U.S. and Canada. Moreover, the high rate of adoption of advanced technologies, such as IoT and wearable technology, further contributes to the market share held by North America.
The global 5G equipment market in Asia Pacific is anticipated to expand at a rapid pace during the estimated period. Developing countries are mostly focused on implementation of new technologies and countries such as India, China, and Japan are emphasizing on investment in the 5G equipment market.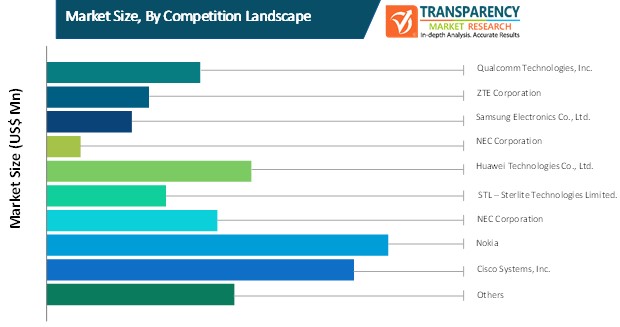 Key Players Operating in Global 5G Equipment Market
Qualcomm Technologies, Inc.
Qualcomm Technologies, Inc. engages in the commercialization and development of products and foundational technologies that are used in wireless products and mobile devices, including network equipment and broadband gateway equipment. The company provides services and development to all parts of the globe. The company was founded in 1985 and is headquartered in California, U.S.
ZTE Corporation offers integrated information technology and telecommunication solutions worldwide. The company offers in wireless products, such as AAU series, baseband units, cell base station series, indoor coverage, ultra-broadband radio series, and microwave products. The company also provides cloud computing products, IoT products and also deals in 5G technology. The company was incorporated in 1985 and is headquartered in Shenzhen, China.
Other key players operating in the global 5G equipment market include Samsung Electronics Co., Ltd., NEC Corporation, Huawei Technologies Co., Ltd., STL - Sterlite Technologies Limited, Nokia, Telefonaktiebolaget LM Ericsso, Cisco Systems, Inc., CommScope, Hitachi, Ltd., Airspan Networks, Inc., Equinix, Inc., and Qorvo.
5G Equipment Market: Research Scope
5G Equipment Market, by Equipment
5G Equipment Market, by Technology
Network Function Visualization (NFV)
Software Defined Networking (SDN)
5G Equipment Market, by Architecture
5G Standalone (NR + Core)
5G NR Non-Standalone (LTE Combined)
5G Equipment Market, by Frequency
5G Equipment Market, by End-user
Commercial
Industrial
Government
Residential
5G Equipment Market, by Region
North America

U.S.
Canada
Rest of North America

Europe

Germany
France
U.K.
Italy
Rest of Europe

Asia Pacific

China
Japan
India
South Korea
Rest of Asia Pacific

Middle East & Africa

GCC
South Africa
Rest of Middle East & Africa

South America

Brazil
Rest of South America