Home Press Releases
Orthopedic Trauma Fixation Devices Market to Expand at a Progressive 7.2% CAGR from 2014 to 2020 Due to Rising Expenditures in Healthcare Facilities
Orthopedic Trauma Fixation Devices Market to Expand at a Progressive 7.2% CAGR from 2014 to 2020 Due to Rising Expenditures in Healthcare Facilities
Transparency Market Research, a U.S.-based market research and intelligence firm has recently announced the publication of a new research report. The research report provides an in-depth analysis of the
global orthopedic trauma fixation devices market
across the globe including a detailed study on the market overview, product segmentation, research methodology, and competitive landscape of the market. The 94-pages report has made use of graphical representation such as charts and tables to ensure better understanding and presentation of the historical data and forecast of the global market. The report has also included insights and recommendations from industry experts and professionals, which can help the existing players as well as the new entrants in designing their policies.
The research report is titled "Orthopedic Trauma Fixation Devices Market - Global Forecast, Share, Size, Growth and Industry Analysis 2014 - 2020". According to the research study, in 2014 this market stood at US$6.1 billion and it is projected to reach US$9.3 billion by the end of 2020, growing substantially at a 7.2% CAGR between 2014 and 2020.Rising incidences of spot injuries and fractures, growing expenditures in healthcare sector, and lack of adequate alternatives are some of the major factors that are fuelling the global market for orthopedic trauma fixation devices in the coming years. However, high surgery cost, double surgery, and absence of health insurance in emerging economies are some of the restraining factors, which are expected to curb the growth of this market in the forecast period.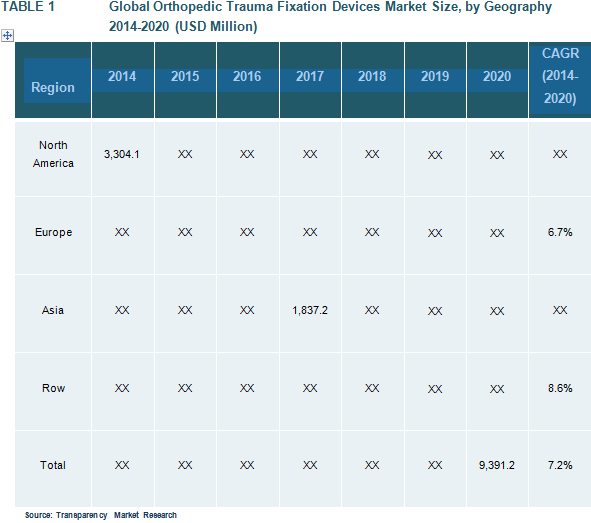 According to the different types of fixator, the global market for orthopedic trauma fixation devices has been divided into external fixator and internal fixator. Presently, internal fixators segment accounts for the largest market share and is projected to grow significantly at a 6.8% CAGR through the forecast period. Furthermore, the internal fixator segment has been categorized into plate and screw system, intramedullary nail, and intramedullary screw. Among these, the plate and screw systems segment are commonly used internal fixators and this market segment is anticipated to grow progressively at a 7.1% CAGR between 2014 and 2020.
On the basis of composition, this market has been segmented into metallic fixators and bioabsorbable fixators. Most of the key companies across the globe are focusing on increasing their production of internal fixators with the use of bioabsorbable material. The global bioabsorbable fixator segment is estimated to exhibit substantial 8.4% CAGR in the forecast period. Furthermore, the research report has geographically segmented the global market for orthopedic trauma fixation devices into North America, Europe, Asia Pacific, and Rest of the World.
The research report further provides a competitive analysis of the global orthopedic trauma fixation devices market. The market is analyzed on the basis of growth drivers, business overview, financial overview, business strategies, and recent developments of the industry. Some of the prominent players operating in this market include Orthofix Holding Inc., Johnson & Johnson Company, Smith & Nephew, Stryker Corporation, DePuy Synthes, and Zimmer Holding Inc. Among all these players, in 2013, the leading players such as Johnson & Johnson Company and DePuy Synthes collectively accounted for 47.3% of the market.
About Us
Transparency Market Research (TMR) is a global market intelligence company providing business information reports and services. The company's exclusive blend of quantitative forecasting and trend analysis provides forward-looking insight for thousands of decision makers. TMR's experienced team of analysts, researchers, and consultants use proprietary data sources and various tools and techniques to gather and analyze information.
TMR's data repository is continuously updated and revised by a team of research experts so that it always reflects the latest trends and information. With extensive research and analysis capabilities, Transparency Market Research employs rigorous primary and secondary research techniques to develop distinctive data sets and research material for business reports.
Contact
Mr. Nachiket
State Tower,
90 State Street,
Suite 700,
Albany NY - 12207
United States
Tel: +1-518-618-1030
USA - Canada Toll Free: 866-552-3453
Email: sales@transparencymarketresearch.com
Website: http://www.transparencymarketresearch.com
Share This Article!
Related Report
Asia, Europe, and South America Anti-aging Market (By Products: UV Absorbers, Dermal Fillers, Botox, Anti-stretchmark, Hair Color, and Anti-wrinkle By Services: Anti-pigmentation, Anti-adult Acne, Breast Augmentation, Liposuction, Abdominoplasty, Chemical Peel, Eye Lid Surgery, Hair Restoration, and Sclerotherapy; By Devices: Anti-cellulite Treatment, Microdermabrasion, Laser Aesthetic, and Radio Frequency) - Industry Analysis, Size, Share, Growth, Trends and Forecast 2014 - 2020

This report studies the anti-aging products, services and devices market in Europe, Asia and South America. The market has been segmented on the basis of demographics for analyzing each of the segments including products, services and devices for three major geographic regions: Europe, Asia and South America. The anti-aging services market has been sub-segmented into anti-pigmentation therapy, adult anti-acne therapy, breast augmentation, liposuction,...

A hearing aid is an electronic device designed to amplify sounds, particularly speech for people with hearing impairments and loss in hearing abilities. A hearing aid consist of a microphone, a loudspeaker, an amplifier and a battery. The microphone picks up the sound, which is made louder with the help of an amplifier so the wearer can hear things more clearly. Hearing aids are incapable of truly correcting a hearing loss but they are an aid to make sounds...

Canada Home Healthcare Market (By Device Types - Diagnostics and Monitoring Devices, Therapeutic Home Healthcare Devices, Mobility Assist Devices and Medical Supplies; By Services - Rehabilitation, Telehealth and Telemedicine, Respiratory Therapy, Infusion Therapy and Unskilled Home Healthcare Services) - Industry Analysis, Size, Share, Growth, Trends and Forecast 2014 - 2020

The home health care market includes a wide range of medical devices and services that are used by patients to treat, diagnose, and monitor a variety of chronic diseases. These devices and services play an important role in providing cost-effective health care to the patients. The home health care market offers lucrative business opportunities in Canada due to increased acceptance of home health care, technological advancements, and cost-effective...