Home Press Releases
Global Onshore Wind Energy Market is expected to reach USD 898.0 billion in 2020
Global Onshore Wind Energy Market is expected to reach USD 898.0 billion in 2020
Transparency Market Research has released a new market report titled "
Onshore Wind Energy Market - Global Industry Analysis, Size, Share, Growth, Trends and Forecast 2014 - 2020
." According to the report, the
onshore wind energy market
was valued at USD 89.3 billion in 2013 and is anticipated to reach USD 898.0 billion in 2020, expanding at a CAGR of 29.6% from 2014 to 2020.
Wind energy is a relatively mature source of generating renewable energy. Wind has been established as one of the most preferred methods for generating renewable energy in several nations. The wind industry's rapid development in the past few years indicates its significant potential to create jobs, spur economic activity and reduce greenhouse gas emissions. Onshore wind energy is a relatively old technology. It is one of the most developed methods used to generate renewable energy currently. Both project development experience and technology maturity for the onshore wind energy sector is high. The high technology maturity component is one of the primary factors driving the adoption of onshore wind energy. A large number of project developers operate in the market. These are duly supported by policy frameworks established by national governments. This helps reduce business risks and strengthens investor confidence in the renewable energy sector. The technology has achieved a certain degree of maturity; however, there is still ample scope for cost reduction through material diversification and technology innovation.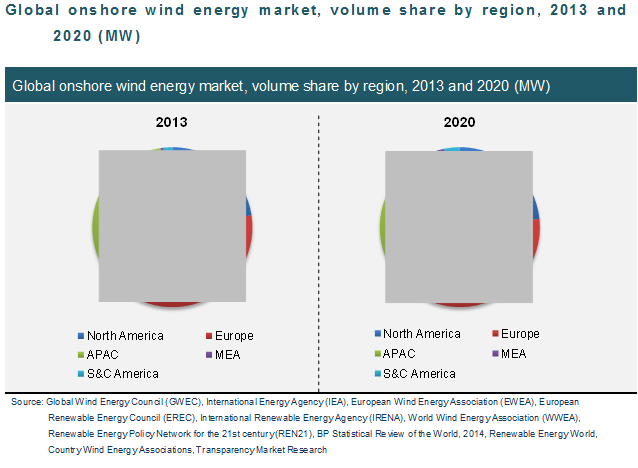 Currently, Asia Pacific is the major market in the onshore wind energy sector, with China and India spearheading growth in the region. Supportive government subsidy schemes and renewable energy installation targets are some of the major factors driving investments in the onshore wind energy industry. China led the onshore wind energy market, with record installations of 16030 MW in 2013. In relatively mature markets such as Europe and the U.S., the growth in onshore wind energy installations has hit a plateau. Europe was once a major centre for onshore wind development. However, the region is still reeling from the economic crisis. It is struggling to maintain its renewable energy subsidy bills. Germany and the U.K. accounted for over 65% of annual installations in Europe in 2013. Strong strategic targets for capacity additions under the European directive are still in force in the region. Capacity installations are likely to pick up as the economy recovers further. The U.S. is still one of the leading markets for onshore wind industry; however, the country registered a sudden decline in installations in 2013 due to the withdrawal of production tax credit (PTC) scheme by the government. Brazil is expected to be an attractive market for wind power developers in Latin America. The onshore wind energy industries in Argentina and Costa Rica have exhibited promising development.
The market for wind turbines has been broadly segmented into four categories depending on their size. With rapid technological innovations, large wind turbines are turning out to be more feasible for large wind farm installations. These large wind turbines reduce cost of construction and power generation. Large wind turbines could emerge as one of the most cost-efficient options for onshore wind energy in the near future. Decline in natural gas prices in some regions, especially in North America, in the aftermath of the shale gas boom would hamper wind energy installations. Countries are likely to opt for cheaper and reliable generation from natural gas, which also meets the emission standards. In 2013, developed economies experienced a wave of downward revisions for addition of renewable targets and support mechanisms related to the onshore wind energy sector. Additionally, increasing competition in the industry continues to affect the manufacturing supply chain.
This research is designed to estimate, analyze and forecast the market volume and revenue for the wind power generation market. It provides an in-depth analysis of the market size of wind power in terms of capacity (MW) and revenue (USD Billion). Key players in the market include Gamesa Corporacion Tecnologica SA, Siemens Wind Power, Vestas Wind Systems A/S, Goldwind Science and Technology Co., Ltd and Sinovel Wind Group Co., Ltd. The report provides an overview of these companies, followed by their financial revenue, business strategies and recent developments. The research analyzes and estimates the performance and market for onshore wind energy globally. It provides a detailed trend analysis of the market in terms of geography. It also offers a comprehensive analysis of companies that deal in onshore wind energy systems. The report provides a thorough assessment of strategies followed by different stakeholders by segmenting the onshore wind energy market as follows:
Onshore Wind Energy Market: Regional Analysis
North America
Asia Pacific
Australia
India
China
New Zealand
Japan
South Korea
Taiwan
Others
Europe
The U.K.
Denmark
Belgium
Germany
Finland
Sweden
Norway
Ireland
Portugal
Spain
The Netherlands
France
Italy
Poland
Austria
Ukraine
Turkey
Greece
Romania
Others
The Middle East & Africa
Iran
Morocco
Tunisia
Egypt
Others
South & Central America
Argentina
Brazil
Costa Rica
Others
About Us
Transparency Market Research is a global market intelligence company, providing global business information reports and services. Our exclusive blend of quantitative forecasting and trends analysis provides forward-looking insight for thousands of decision makers. We are privileged with a highly experienced team of Analysts, Researchers, and Consultants, who use proprietary data sources and various tools and techniques to gather, and analyze information.
Our data repository is continuously updated and revised by a team of research experts, so that it always reflects the latest trends and information. With a broad research and analysis capability, Transparency Market Research employs rigorous primary and secondary research techniques in developing distinctive data sets and research material for business reports.
Contact:
Ms. Sheela AK
State Tower,
90 State Street,
Suite 700,
Albany NY - 12207
United States
USA - Canada Toll Free: 866-552-3453
Email: sales@transparencymarketresearch.com
Website: http://www.transparencymarketresearch.com/
Share This Article!
Related Report
Oil and Gas Pipeline Leak Detection Market - Global Industry Analysis, Size, Share, Trends, Analysis, Growth and Forecast 2014 - 2020




Rapid growth in the oil and gas sector is likely to boost growth in the oil and gas pipeline leak detection market. The global demand for oil and gas pipeline leak detection market is primarily driven by the growing energy demand. Furthermore, increased global demand for fuel is expected to propel growth in the oil and gas pipeline network around the world. Rapid development of pipeline network increases the...

Riserless Light Well Intervention Market - Global Industry Analysis, Size, Share, Trends, Analysis, Growth and Forecast 2014 - 2020




With the increasing number of subsea wells requiring some sort of interventions such as repair, measurements, plug zone isolation, chemical treatment, scale removal there is an increasing demand for an efficient subsea light well intervention service. Such a service has been in operation on the Norwegian continental shelf for the past three years and is systematically being improved from year to year. Currently,...

Reforming Unit Market - Global Industry Analysis, Size, Share, Trends, Analysis, Growth and Forecast 2014 - 2020




In refineries, reforming unit is a very crucial unit to meet the requirements of clean fuels. The increasing demand of high octane reformates for gasoline blending and hydrogen for other refinery operations is proving beneficial for the reforming unit market. Reforming unit changes the molecular structure of crude and coker naptha to produce reformate which is a high octane primary gasoline blend stock. The...