Home Press Releases
Global ITS market Could Reach USD 30.2 billion by 2019
Global ITS market Could Reach USD 30.2 billion by 2019
Intelligent Transportation System (ITS) Market - Global Industry Analysis, Size, Share, Growth, Trends and Forecast, 2013 - 2019
, the report published by Transparency Market Research provides invaluable insights about the
global ITS market
. It provides a detailed analysis of current market trends and future prospects of this market along with a detailed forecast of market conditions of the global ITS industry during the forecast period, i.e. 2013 to 2019, of the report.
According to the report, this industry that is still in its developmental and experimental stages could hold a market value of an estimated USD 30.2 billion by 2019. In the next five years, this market could observe growth at a CAGR of 11.1%.
The demand of ITS systems is on a rise throughout the globe owing to the many benefits provided by even the basic ITS mechanisms - the need for managing traffic congestion in metropolitan areas being one of the prime reasons.
But beyond traffic management, ITS systems also help in maintaining orad safety, reducing the number of accidents and increase the mobility of the overall transport system. Added mobility also results in reduction of use of fuel and naturally to the reduction of carbon emission to the environment. Reduced fuel consumption leads to economic development of a country.
Product-wise, the section of advanced transportation management systems (ATMS), the devices used for traffic control and management are currently the most popular market segment of the industry. In 2012, this segment accounted for nearly 42.1% revenues of the total global revenues of the ITS industry. The product segment of advanced vehicle pricing that includes systems for electronic toll collection, congestion pricing, etc. also possess huge potential of growth.
The area of automotive telematics is another major segment of potential ITS application. The huge demand for navigation systems and vehicle positioning systems from both vehicle owners as well as manufacturers could result in significant growth opportunities for this market.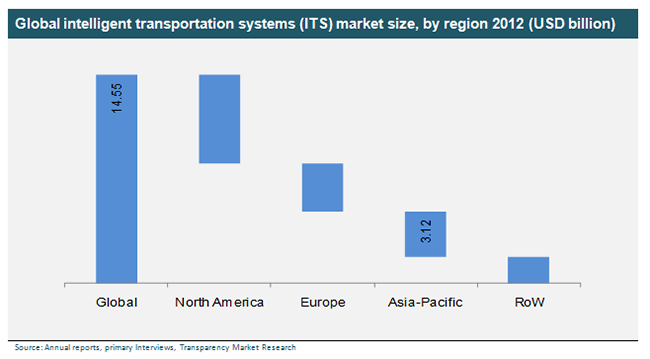 Geographically, the ITS industry has the region of North America as its major revenue generator. In 2012, this region had an estimated 42.2% shares of the total global revenues of this industry. Particularly in the US, promotional activities and government initiatives have resulted in an increased demand for ITS systems in both the private as well as public sectors.
As for many other industries, future seems bright for the global ITS industry as well in the Asia Pacific region. Huge investments are expected in the industry from countries such as Thailand, Malaysia, China and India. Additionally, the huge development in ITS market is also expected from countries in Middle East, Africa and South America owing to the possibilities of economic growth provided by the ITS industry for these countries.
The global market of ITS systems is very competitive with a large number of domestic as well as multinational players. Some of the major market leaders include Kapsch TrafficCom AG(Austria), Siemens AG (Germany), Hitachi Ltd (Japan), TomTom NV (Netherlands), Q-Free ASA (Norway), Xerox (U.S.), Denso Corp (Japan),etc.
About Us
Transparency Market Research (TMR) is a global market intelligence company providing business information reports and services. The company's exclusive blend of quantitative forecasting and trend analysis provides forward-looking insight for thousands of decision makers. TMR has experienced team of analysts, researchers, and consultants use proprietary data sources and various tools and techniques to gather and analyze information.
TMR's data repository is continuously updated and revised by a team of research experts so that it always reflects the latest trends and information. With extensive research and analysis capabilities, Transparency Market Research employs rigorous primary and secondary research techniques to develop distinctive data sets and research material for business reports.
Contact
Ms. Sheela AK
State Tower,
90 State Street,
Suite 700,
Albany NY - 12207
United States
USA - Canada Toll Free: 866-552-3453
Email: sales@transparencymarketresearch.com
Website: http://www.transparencymarketresearch.com/
Share This Article!
Related Report
Dissolved Gas Analyzer Market - Global Industry Analysis Size Share Growth Trends and Forecast 2014 - 2020




This report provides strategic analysis of the global dissolved gas analyzer market. The scope of the report includes competitive analysis of various market segments based on the extraction types of mineral oil from power transformers for the DGA (dissolved gas analysis) and analysis type being used during dissolved gas analysis process. Moreover, the market has also been segmented on the basis of power rating...

GaN Industrial Devices Market - Global Industry Analysis, Size, Share, Growth, Trends and Forecast 2015 - 2021




The report provides a strategic analysis of the global GaN industrial devices market. The global GaN industrial devices market has been segmented on the basis of types, applications and geography. Furthermore, GaN HEMT (High Electron Mobility Transistor) has been bifurcated on the basis of their application areas. The cross sectional analysis of global GaN industrial devices market across the five major...

Optocouplers Market - Global Industry Analysis, Size, Share, Growth, Trends and Forecast 2015 - 2021




Optocouplers or opto-isolators are electronic devices used to protect components that require low voltage inputs. Optocouplers isolate a lower voltage section from a high voltage section in the same circuit.. The scope of the report includes competitive analysis of various market segments based on types, applications and in-depth cross sectional scrutiny of the optocouplers market across different geographic...