Home Press Releases
Hadoop Market to Grow at 54.7% CAGR due to Increasing Demand for Big Data Analytics
Hadoop Market to Grow at 54.7% CAGR due to Increasing Demand for Big Data Analytics
Transparency Market Research announces the publication of a new market analysis report, examining the global Hadoop market. The report is titled 'Global Hadoop Market - Industry Analysis, Size, Share, Growth, Trends, and Forecast, 2012 - 2018' and examines the various product types, applications, regional segments, and major players of the global Hadoop market. Forecasts for each segment are prepared using analytical tools such as market attractiveness analysis and Porter's five forces analysis and are presented for the stated forecast period.TMR analysts have zeroed in upon the ever-increasing amount of data generated in today's digital world as the prime growth driver for the global Hadoop market. "The amount and variety of digital data generated on the Internet every day is mindboggling," stated TMR's lead analyst. "The large amount of information on the Web presents a lucrative for many companies to gather the relevant data, but their major roadblock in that aim is a lack of a competent software that can corral and collate structured as well as unstructured data. Hadoop fulfills that need perfectly."Due to this growing demand, the global Hadoop market is expected to exhibit growth at a stunning 54.7% CAGR from 2012 to 2018 and be valued at US$20 billion by 2018. The market was worth US$1.5 billion in 2011.
Browse the full Global Hadoop Market - Industry Analysis, Size, Share, Growth, Trends, and Forecast, 2012 - 2018 report at http://www.transparencymarketresearch.com/hadoop-market.html
Big data analytics are increasingly in demand to handle the data generated on the Web. Of the several options on the market that perform this function, Hadoop is the most cost- and time-efficient. This has led to high demand from the global Hadoop market. Hadoop also has the scope to fill the gap between database management and managers, making the process more streamlined and aiding the company's functional efficiency.On the flip side, the major restraint faced by the global Hadoop market is a lack of trained personnel to man large-scale Hadoop operations and lack of widespread Hadoop infrastructure to support its usage across the world. These teething problems are inevitable for any new technology and the report also presents viable solutions to overcoming these issues.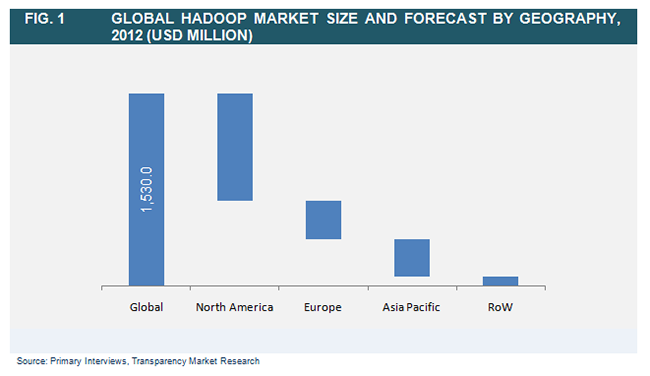 Mergers and acquisitions in the Hadoop market, in addition to other collaborations, can significantly increase the reach of the global Hadoop market and are thus the focus of several large companies operating in the Hadoop market. Another aspect common to most if not all major Hadoop enterprises is a strong focus on the emerging Asian and Latin American markets for Hadoop. These regions are becoming increasingly prominent in the global Internet scenario and the success of Hadoop enterprises in tapping the opportunity in these markets will largely determine the trajectory of the global Hadoop market in the forecast period.
North America and Europe, accordingly, are the two largest regional segments of the global Hadoop market at present, due to the strong technological support to the incorporation of Hadoop in these developed regions.The global Hadoop market is divided into Hadoop software, hardware, and services by product type, and into BFSI, retail, manufacturing, telecom, media and entertainment, healthcare, natural resources, IT, government, and trade and transportation by application. Market forecasts for each of these segments are given in the report, providing a 360-degree view of the global Hadoop market.
About Us
Transparency Market Research (TMR) is a global market intelligence company providing business information reports and services. The company's exclusive blend of quantitative forecasting and trend analysis provides forward-looking insight for thousands of decision makers. TMR's experienced team of analysts, researchers, and consultants use proprietary data sources and various tools and techniques to gather and analyze information.
TMR's data repository is continuously updated and revised by a team of research experts so that it always reflects the latest trends and information. With extensive research and analysis capabilities, Transparency Market Research employs rigorous primary and secondary research techniques to develop distinctive data sets and research material for business reports.
Contact
Mr. Sudip. S
State Tower,
90 State Street,
Suite 700,
Albany NY - 12207
United States
Tel: +1-518-618-1030
USA - Canada Toll Free: 866-552-3453
Email: sales@transparencymarketresearch.com
Related Report
Wireless Microphone (Application - Corporate Usage, Education, Hospitality, House of Worship, Events and Large Venues; By Technology - Wi-Fi by Frequency, RF by Frequency, RF by Channel; By Price - By Dealership Price, By End-User Price) Market - Asia Pacific (APAC) Industry Analysis, Size, Share, Growth, Trends and Forecast 2015 - 2023

Wireless microphones avoid cabling problems such as trip hazards in the performance space. In addition, overhead costs for cabling is wiped out. Moreover, wireless microphones offer high mobility and comfort when compared to wired microphones. Thus, consumer preference for these products is increasing in the APAC region. Wireless microphones are available in various sizes and shapes and can fit on the ear or waist, keeping the user's hands free. Wireless microphones use Wi-Fi networks, ...

Wireless Intercom (By End-user - Small and Medium Enterprises (SMEs) and Large Enterprises; By Industry Vertical - Retail, Event Management, Hospitality, Security and Surveillance, Transportation and Logistics and Others; By Technology - Wi-Fi, Radio Frequency, Others; By Price - By Dealership, By End-User) Market - Asia Pacific (APAC) Industry Analysis, Size, Share, Growth, Trends and Forecast 2015 - 2023

A wireless intercom enables wireless transfer of audio signals between a base station and end terminals (handheld headset, belt pack, speaker station) in any application. Wireless intercom has one base station and multiple belts packs or substations. These belt packs communicate with one another through the base station. Wireless intercom provide such as single, dual, and multiple channels for communication through which the belt packs are connected to one another. The report covers wireless ...

Audio Communication Monitoring Market - Global Industry Analysis, Size, Share, Growth, Trends and Forecast 2015 - 2023

Audio communication monitoring system automatically monitors the recorded audio which can be further used by the enterprises and call centers for the compliance purpose, speech analysis and transcriptions. Audio communication monitoring system have become one of the wide scale deployed solution, seen as essential for the daily operations of the organizationsto help adhere to the risk and compliance management mandate. These operations include audio recording during conference calls, cli...