Home Press Releases
Demand from North America to Drive Global Chromatography Systems Market to US$10,364.2 Mn by 2019
Demand from North America to Drive Global Chromatography Systems Market to US$10,364.2 Mn by 2019
Transparency Market Research states in its latest report that technological advancement and increase in R&D efforts have driven the global market for chromatography systems. The report, titled "
Chromatography Systems Market - Global Industry Analysis, Size, Share, Growth, Trends and Forecast, 2013-2019
", states that at a CAGR of 5.2% from 2013 to 2019, the chromatography systems market is projected to grow from US$6,982.3 million in 2012 to US$10,364.2 million in 2019. The research report segments the
global chromatography systems market
on the basis of type, end user, and geography. By type, the chromatography systems market can be categorized into liquid chromatography, gas chromatography, and others. Liquid chromatography is sub-segmented into low pressure liquid chromatography (LPLC), high pressure liquid chromatography (HPLC), and ultra high pressure liquid chromatography (UHPLC). The others category comprises supercritical fluid chromatography (SFC), thin layer chromatography (TLC), affinity chromatography (AC), ion exchange chromatography (IEC), and column chromatography.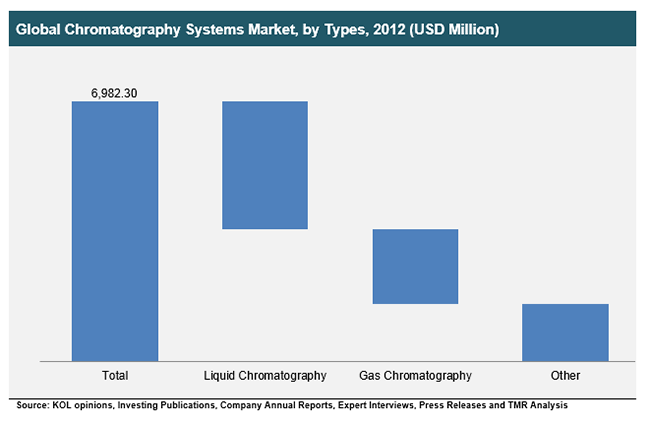 The segment of HPLC held the largest share of the liquid chromatography market in 2012. HPLC is widely used in applications concerning petrochemical, life science, and biopharmaceutical industries. This, combined with advancement in technology is likely to push the HPLC segment to over US$3 billion by 2019. UHPLC, on the other hand, is projected to be the fastest growing sub-segment in the liquid chromatography market, registering a CAGR of more than 7% in the forecast period.Chromatography systems find application in agriculture and food industries, hospitals and research laboratories, and biotechnology and pharmaceutical industries. Apart from this, chromatography systems are also used in environmental agencies, cosmetic industries, and nutraceutical companies. The growing demand for chromatography systems for protein purification and surge in research and development activities has propelled the chromatography systems market in biopharmaceutical and pharmaceutical industries. The value of this segment was pegged at over US$2 billion in 2012.
Geographically, North America dominated the global chromatography systems market in 2012, accounting for a share of more than 35% in the overall market. The persistent efforts of organizations such as The Chromatographic Society (ChromSoc) and the Chinese American Chromatography Association are forecast to boost the chromatography systems market in the region over the next few years. Europe held a 30% share in the global market in 2012 thanks to the introduction of new technologies by local players. Asia Pacific, on the other hand, is likely to be the fastest developing chromatography systems market by 2019.
rowse the full
Chromatography Systems Market - (Gas Chromatography, Liquid Chromatography (High, Ultra High & Low Pressure) and Others (Ion-Exchange, Affinity, Supercritical Fluid, Column & Thin Layer Chromatography) - Global Industry Analysis, Size, Share,Growth, Trends and Forecast,2013 - 2019
report at
http://www.transparencymarketresearch.com/chromatography-market.html
The chromatography systems market, by nature, is immensely fragmented with no single company enjoying the lead. There are, however, numerous prominent players operating in the chromatography systems market. These include Bio-Rad Laboratories, Inc., Waters Corporation, Regis Technologies, Inc., Jasco, Inc., Agilent Technologies, Inc., Illumina, Inc., PerkinElmer, Inc., Thermo Fisher Scientific, Inc., KONIK-TECH KONIXBERT HI-TECH S.A., GE Healthcare, Siemens AG, F. Hoffmann-La Roche Ltd., Shimadzu Corporation, Affymetrix, Inc., and Sigma-Aldrich Co. LLC. Vendors have been focusing on developing innovative and cost-effective chromatography systems in order to increase their customer base and to gain a larger share of the global market.
About Us
Transparency Market Research (TMR) is a global market intelligence company providing business information reports and services. The company's exclusive blend of quantitative forecasting and trend analysis provides forward-looking insight for thousands of decision makers. TMR's experienced team of analysts, researchers, and consultants use proprietary data sources and various tools and techniques to gather and analyze information.
TMR's data repository is continuously updated and revised by a team of research experts so that it always reflects the latest trends and information. With extensive research and analysis capabilities, Transparency Market Research employs rigorous primary and secondary research techniques to develop distinctive data sets and research material for business reports.
Contact
Mr. Nachiket
State Tower,
90 State Street,
Suite 700,
Albany NY - 12207
United States
Tel: +1-518-618-1030
USA - Canada Toll Free: 866-552-3453
Email: sales@transparencymarketresearch.com
Website: http://www.transparencymarketresearch.com
Share This Article!
Related Report
Asia, Europe, and South America Anti-aging Market (By Products: UV Absorbers, Dermal Fillers, Botox, Anti-stretchmark, Hair Color, and Anti-wrinkle By Services: Anti-pigmentation, Anti-adult Acne, Breast Augmentation, Liposuction, Abdominoplasty, Chemical Peel, Eye Lid Surgery, Hair Restoration, and Sclerotherapy; By Devices: Anti-cellulite Treatment, Microdermabrasion, Laser Aesthetic, and Radio Frequency) - Industry Analysis, Size, Share, Growth, Trends and Forecast 2014 - 2020

This report studies the anti-aging products, services and devices market in Europe, Asia and South America. The market has been segmented on the basis of demographics for analyzing each of the segments including products, services and devices for three major geographic regions: Europe, Asia and South America. The anti-aging services market has been sub-segmented into anti-pigmentation therapy, adult anti-acne therapy, breast augmentation, liposuction,...

A hearing aid is an electronic device designed to amplify sounds, particularly speech for people with hearing impairments and loss in hearing abilities. A hearing aid consist of a microphone, a loudspeaker, an amplifier and a battery. The microphone picks up the sound, which is made louder with the help of an amplifier so the wearer can hear things more clearly. Hearing aids are incapable of truly correcting a hearing loss but they are an aid to make sounds...

Canada Home Healthcare Market (By Device Types - Diagnostics and Monitoring Devices, Therapeutic Home Healthcare Devices, Mobility Assist Devices and Medical Supplies; By Services - Rehabilitation, Telehealth and Telemedicine, Respiratory Therapy, Infusion Therapy and Unskilled Home Healthcare Services) - Industry Analysis, Size, Share, Growth, Trends and Forecast 2014 - 2020

The home health care market includes a wide range of medical devices and services that are used by patients to treat, diagnose, and monitor a variety of chronic diseases. These devices and services play an important role in providing cost-effective health care to the patients. The home health care market offers lucrative business opportunities in Canada due to increased acceptance of home health care, technological advancements, and cost-effective...